Education key for economy, Sherrer says at
LCDC

meeting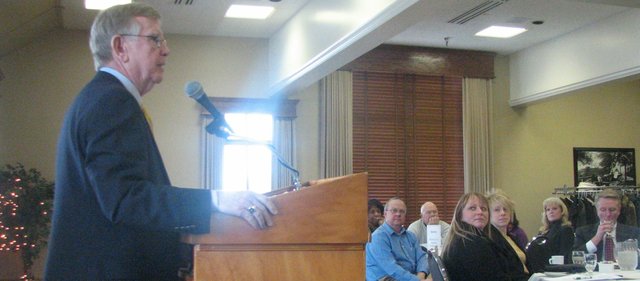 For Leavenworth County to attract new businesses, it must first focus on the "products" it can offer a company, Kansas Board of Regents chairman Gary Sherrer told county leaders Friday. And perhaps the most important of those products, he said, is a quality education system.
"Education drives the economy," Sherrer said, "and anytime we diminish it, we will diminish the opportunities for our economy."
Sherrer, a former educator who worked in the banking industry and served in several state offices, spoke Friday at the Leavenworth County Development Corporation's annual meeting at the Riverfront Community Center in Leavenworth.
He listed four fundamental elements of economic development for a community: product, unity of purpose, financial resources and marketing.
While Sherrer said "products" such as infrastructure and available property are also vital for attracting new development, he focused on education as a potential magnet for new businesses. Good schools can draw businesses by promising a smart, well-trained workforce and by attracting more families seeking good opportunities for their children, he said.
"I am fully convinced that the reason Johnson County is successful was fundamentally because of the investment in their public school system," Sherrer said.
His second important ingredient, unity, is especially difficult for a county organization, he said, because people may often feel more of a connection to their city or smaller community than to their county at large. But rivalries between different parts of the county can hurt efforts to attract new businesses to any part of the county, he said.
"Anything good in economic development that happens anywhere in Leavenworth County is good for everybody in Leavenworth County," Sherrer said.
Next on Sherrer's list was for a community to have the cash resources to provide financial incentives for prospective new businesses. He cited the example of Wyandotte County's pursuit of the many developments at Village West when he said that putting incentives on the table could be uncomfortable but necessary for big projects.
"Cash is king, always," Sherrer said. "Businesses love it."
Sherrer was the longest-serving Lieutenant Governor in Kansas history from 1996 to 2003. He also served as Secretary of the Kansas Department of Commerce.
Also at the meeting, LCDC officials summed up the organization's achievements in 2010 and appointed new board members.
Outgoing LCDC president Chuck Peterson said the organization's recruitment projects had led to 77 new jobs and more than $6 million in capital investment in Leavenworth County during 2010. LCDC also helped three county businesses receive state training grants that helped retain 26 more jobs, he said.
Two Leavenworth organizations at the center of LCDC recruitment efforts, the Central Bag Company and the Consolidated Patient Account Center at the Eisenhower Veterans Affairs Medical Center, are scheduled to begin hiring in 2011, Peterson said.
At the conclusion of the meeting, Mike Nixon took over as LCDC president, beginning a two-year term.