Kansas Day: 150th anniversary of statehood is Saturday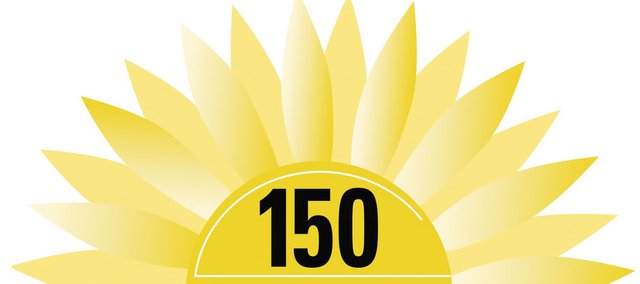 The 150th anniversary of statehood is Saturday, and across the Sunflower State, Kansas Day festivities will abound. Here, the Kansas Historical Society provides answers to questions about Kansas Day.
Q: Do other states celebrate their statehood with a special day?
A: Kansas Day as an annual celebration of Kansas' statehood is fairly unique among all the other states. The day is fondly remembered by adults who grew up in Kansas to those who have moved to other states or countries.
Q: So when did Kansas Day begin?
A: Kansas Day was born in Paola in 1877. A teacher, L.G.A. Copley, found that his U.S. history students were more interested in the lesson if they happened to study an event on the anniversary of its occurrence. It led him to believe his students might be more deeply impressed about the many facts concerning Kansas by studying them on Jan. 29, the anniversary of Kansas' admission into the Union. Copley repeated the lesson the next year in Paola, then did the same when he became superintendent of schools in Wichita. In 1881, he described Kansas Day in a state education journal, and teachers across Kansas began observing Kansas Day.
Q: How is the historical society observing Kansas Day this year?
A: Special events will be Jan. 27-29 at the Kansas Museum of History in Topeka.
Q: I read there's going to be a new Kansas postage stamp. Is that true?
A: At 10 a.m. Thursday, Jan. 27, a First Day of Issue ceremony for the new Kansas 150th stamp will take place in the museum classrooms. This event is open to the public. Assisting will be representatives from the U.S. Postal Service and Gov. Sam Brownback.
Q: Is there a way to participate in Kansas Day without going to Topeka?
A: Many of our state historic sites are commemorating Kansas Day. The public will be admitted at no charge at each state historical site participating in the commemoration. A special Kansas Day program will be conducted at the Capitol on Friday, Jan. 28. This 30-minute program will be broadcast on PBS affiliates across the state.