Mclouth store opens again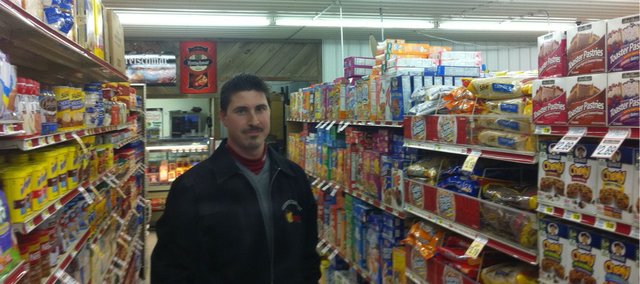 Doors to McLouth's grocery store once again are open.
The store opened Saturday under new ownership as Country Harvest Apple Market on Union Street in downtown McLouth.
Scott Stanley of Ozawkie, who also owns Country Harvest Apple Market in Meriden, opened his second location at the former Hometown Foods in McLouth.
Stanley said opening another store made sense for him with the location, which is about a 20-minute drive from his home.
"It's not as though you're competing with yourself, so to speak," Stanley said about now having both Meriden and McLouth locations.
Originally from the Topeka area, Stanley has owned and operated the Meriden business since 1997 when a 20,000-square-foot store was constructed. Stanley started in the grocery business at age 14 at Russ' IGA in Topeka and, after graduating from Seaman High School in 1992 in Topeka, earned a bachelor's degree in business administration from Kansas State University in 1996. He opened his Meriden store not long after graduating from K-State.
"I knew what I wanted to do, and I just jumped on it," Stanley said.
He said his family had a law enforcement background and he initially planned to go into law enforcement, but he changed his major later during his freshman year at KSU.
The 8,000-square-foot McLouth store, which has 15 employees, is open 7 a.m.-8 p.m. Mondays through Fridays, 8 a.m.-8 p.m. Saturdays and 9 a.m.-6 p.m. Sundays.
The store offers produce, groceries and a meat and deli department. Stanley noted that longtime butcher Jeff Carter will continue to be the store's butcher.
As for the first few days in business, Stanley said the store is off to a good start.
"It went good; it went good," Stanley said. "Everything seemed to go just fine. Lots of community support. Everybody seemed happy with everything."