Air Force band to perform tonight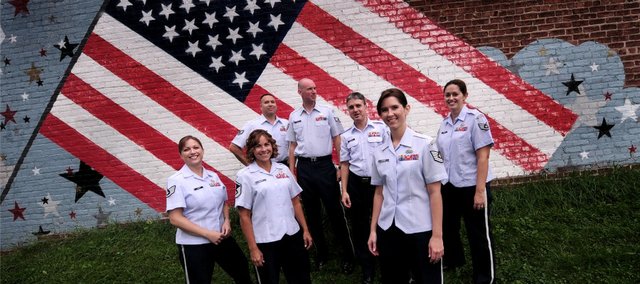 The Winds of Freedom Air Force band performs about 60-70 concerts each year.
Part of that count this year will be Thursday's concert in Tonganoxie.
The band, a woodwind ensemble band based out of Offutt Air Force Base in Omaha, Neb., will perform at 7 p.m. Thursday at the Tonganoxie Performing Arts Center on the Tonganoxie High School campus.
Master Sgt. Nancy A. Montera, who plays the oboe and English horn, said the band normally plays several venues during a short period of time.
"When we are out on the road we typically play a concert every evening," she said. "It doesn't seem hectic because we are too busy having fun.
"We travel about 7-10 days every six weeks, so it does keep us busy."
The Tonganoxie concert will mark the seventh concert in as many days on the band's current stint in northeast Kansas.
The Winds of Freedom band is part of the larger Heartland of America band, which is comprised of nine components and plays about 350 concerts each year.
The band's musicians hail from across the country. Montera is from Indiana, while other members are from South Carolina, Wisconsin, Colorado, New York and Florida.
Admission is free, but tickets are required. They can be picked up at The Mirror office, 520 E. Fourth St. in downtown Tonganoxie or reserved by calling (913) 845-2222. Any remaining tickets will be available the night of the concert.
Representatives of the Heartland Band also performed in 2008 at the performing arts center.
Montera said band members are eager to perform Thursday in Tonganoxie.
"Our goal is to provide an enjoyable, fun evening for the crowd," she said. "We love to interact and be accessible to the audience and not be too stuffy and serious ... more fun for everyone that way."
The Mirror, as well as the Basehor Sentinel and Bonner Springs Chieftain, are sponsoring the concert.