MHS

duo turns it on in 4th quarter of 'W'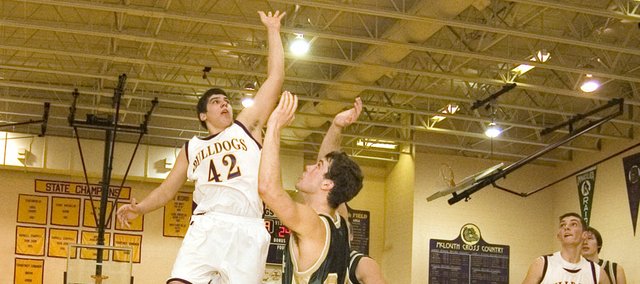 The McLouth High boys basketball team utilized an inside-out combo down the stretch Thursday night to snap a three-game losing streak and defeat Maranatha Academy, 49-46.
With junior forward Gavin Swearngin and sophomore guard Marc Walbridge leading a fourth-quarter push, the Bulldogs saved thief best basketball for the final eight minutes.
Swearngin and Walbridge scored the first six MHS buckets of the fourth quarter and when Swearngin faced up and knocked down a baseline jumper with 4:20 to play, McLouth took its first lead — 39-37 — since the game's opening minutes.
After Maranatha (3-8) converted a three-point play, Walbirdge buried a 3-pointer to put the Bulldogs (6-6) back on top, 42-40.
The Eagles tied the game before Nick McAferty hit a turnaround jump shot with 2:34 left to put MHS up 44-42.
The game was tied once more before Shawn Dailey fed Swearngin for a lay-in with 1:20 remaining, giving McLouth the lead for good.
The Bulldogs sealed the win with free throws in the final minute — Derek Wright hit one with 43 seconds left and Dailey converted both ends of a one-and-one with 23 seconds on the clock.
Maranatha's Luke Miller got off a 3 just before time expired but Dakota Cop contested the potential game-tying shot and McLouth got a home win after dropping three straight at the McLouth Invitational, including one to the Eagles.
Score by quarters
MA 15 6 11 14 — 46
MHS 13 4 12 20 — 49
McLouth scoring
Shawn Dailey 2 2-2 8, Derek Wright 2 1-2 6, Marc Walbridge 5 0-0 12, Gavin Swearngin 7 2-3 16, Alen Kramer 1 0-0 2, Nick McAferty 2 0-0 5.