Subs step up in
THS

boys'

OT

win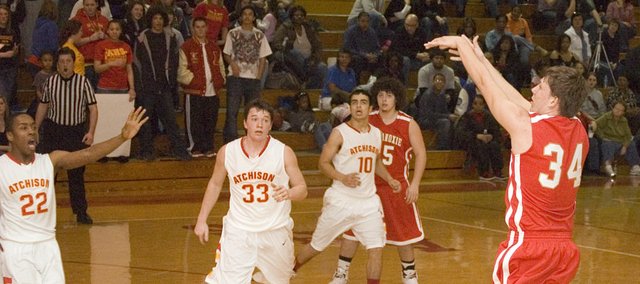 Atchison — Though the Tonganoxie High boys basketball team never trailed in the second half Friday at Atchison, it took overtime for the Chieftains to escape with an 85-80 victory and their bench played a critical role.
AHS (1-11) chipped away at an 11-point THS lead in the fourth quarter, cutting the deficit to a one-possession difference in the final two minutes.
Tonganoxie (5-6) didn't lead by more than three points again until junior sub Brennen Williams, who hadn't stepped foot on the floor since the third quarter, entered the game in the final minute of the extra period, was immediately fouled with 28 seconds left and drained two free throws to put his team ahead 84-80.
Chieftains senior Austin Vickers, a substitute swingman, hit a 3 from the right wing with 2:23 left in overtime to break an 80-80 tie.
THS senior Dylan Scates, who also came off the bench, hit his first four shots, including a pair of 3's, in the first quarter and rode the hot start to a 22-point outing.
Junior center Dane Erickson scored three of his 21 points in OT, hitting three of his four free-throw attempts, and finished with seven rebounds.
Erickson also made the biggest defensive play in overtime for Tonganoxie, drawing a charge on Atchison's leading scorer, Ce'zanne Burnes, just 52 seconds into the period.
Senior point guard Jeremy Carlisle helped keep the Chieftains alive by hitting all four of his free-throw attempts in the final three minutes of the fourth quarter. He finished with 12 points and five assists.
At 7:30 p.m. on Tuesday, Tonganoxie plays host to Basehor-Linwood.
Score by quarters
THS 18 13 22 22 10 — 85
AHS 12 16 18 29 5 — 80
Tonganoxie scoring
Dane Erickson 7-12 7-9 21, Ben Williams 0-0 1-4 1, Colby Yates 1-2 0-2 2, Jeremy Carlisle 3-9 6-6 12, Dylan Jacobs 4-8 1-2 9, Dylan Scates 9-15 2-4 22, Austin Vickers 6-7 2-3 16, Brennen Williams 0-0 2-2 2.