Tonganoxie girls have little trouble with Atchison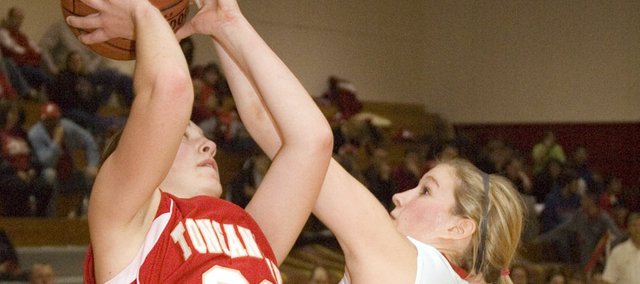 Atchison — A monster night for Jenny Whitledge helped the Tonganoxie High girls basketball team win 56-38 Friday at Atchison.
Whitledge, a sophomore forward, scored 11 of the Chieftains' first 15 points as THS (4-7) attained an early double-digit lead and she finished with 20 points, 16 rebounds and two assists.
Sophomore guard Madee Walker also helped the cause early, coming in off the bench and scoring five points late in the first quarter.
Tonganoxie senior Tayler Miles scored six of her 12 points on putbacks and pulled down nine rebounds off the bench.
Junior forward Tavia Brown scored all seven of her points in the second half and also finished with nine boards.
Though Whitledge had 18 points in the first half, she quieted down offensively in the third and fourth quarters.
In the meantime, other scoring options stepped up. Haley Smith scored four points in the third and eight of Miles' points came in the second half.
THS coach Randy Kraft said his team set the tone for the 18-point road win early on with defense.
"We played really solid, aggressive defense," he said. "We weren't giving anything easy to them and got a few run-outs and a few layups."
At 6 p.m. Tuesday, THS plays host to Basehor-Linwood.
Score by quarters
THS 18 12 13 13 — 56
AHS 5 7 10 16 — 38
Tonganoxie scoring
Amanda Holroyd 0-2 0-0 0, Danielle Miller 1-2 1-3 3, Jenny Whitledge 7-19 6-9 20, Tavia Brown 3-9 1-2 7, Hannah Kemp 1-4 0-2 2, Haley Smith 2-7 2-2 6, Emma Stilgenbauer 0-1 1-2 1, Tayler miles 6-10 0-0 12, Madee Walker 2-3 1-1 5.