Officials prepare for forecast blizzard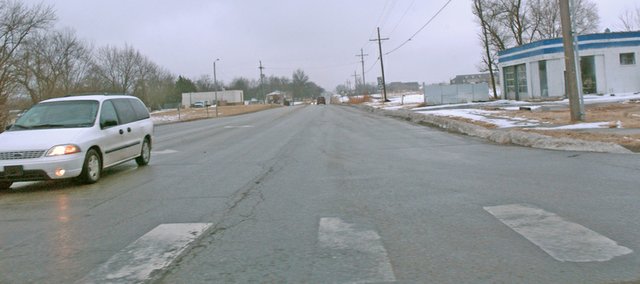 Local governments officials were planning Monday for an anticipated blizzard Tuesday and Wednesday.
Chuck Magaha, Leavenworth County emergency management director, said the latest weather forecasts were for snow to start about 9 a.m. Tuesday and continuing through Wednesday with accumulations of 9 to 14 inches expected. Winds of up to 25 mph will accompany the snowfall.
Magaha said the county started planning Thursday when the National Weather Service first indicated the strength of the coming storm. This morning, he met with representatives of the sheriff's office, county public works and their counterparts from county cities able to make the meeting. He gave them paperwork to document snow removal should, as he now expects, the Federal Emergency Management Agency act of governor's declaration of a federal emergency from the storm.
"Everything indicates it will be," Magaha said. "We want to document it now so we're not playing catch up in the event we do go to a federal emergency."
For the coming blizzard to qualify for a federal emergency and federal dollars to reimburse snow removal costs, the state would have snow removal expenses of $1.27 per resident and the county $2.37 per resident, Magaha said. The storm also has to be a record snowfall for the day, he said.
Cost incurred 24 hours before the storm, the length of the storm and 24 hours after the storm are allowed, Magaha said. Allowable snow removal expenses include sand and chemical pretreatment, equipment hours and overtime, he said.
Tonganoxe City Administrator Mike Yanez said the city was treating streets and roads Monday.
"Our crews pretty well make a habit of maintaining records of work hours and cost associated with storms in case a window of disaster aid opens up," he said.
In another piece of pre-planning, an added full-time firefighter will report to the Tonganoxie Fire Department this evening and stay on through the storm, Yanez said.
"We realize if we do have a fire call or emergency medical response, it would be real hard for a volunteer to make it to the fire station," he said.
Because it has a backup generator, the fire station would also act as the city headquarters should the city lose power, Yanez said.
Magaha said he, too, was preparing such backup plans.
"A lot of our concerns is with the Meals on Wheels program and how to get them taken care of," he said. "We look if there is something we can do ahead of time to get generators to critical infrastructure."
During the storm, his office becomes a resource for placing generators where they might be needed, snowplows to homebound residents with critical needs or to clear roads to fires or medical emergencies, Magaha said.
The blizzard is expected to be the worst since the 2009 Christmas storm. The timing of that storm was fortunate because many people were off for the holiday and didn't attempt to travel, Magaha said. He and Yanez hope many make the same decision the next few days if the predicted 1-inch-per-hour, blowing snow does hit.
"There's not much we can do but plow snow, replow and replow," Yanez said. "We can't guarantee dry pavement or safe road conditions. Personal judgment has to be used.
"Stay home and stay safe."