Fireworks banned in city until Sunday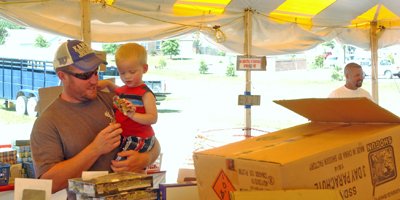 Business was "booming" Chelsie Kennedy deadpanned Friday at the Project Grad fireworks stand at southwest corner of and U.S. Highway 24-40.
But Tonganoxie High School senior to be and others working at the four fireworks stands in Tonganoxie anticipated business would improve as the holiday weekend moved on. The reason, city ordinances allow fireworks stands to open and start selling three days before fireworks can be legally discharged in the city.
Those individuals or organizations who obtained a permit from the could open fireworks stand for business Thursday. They can remain open from 8 a.m. to 11 p.m. daily through July 4, or Monday, this year, but the same city ordinance forbids the discharge of fireworks until the day before Independence Day.
Residents are allowed to discharge 8 a.m. to 11 p.m. on July 3 and 4 only. What's more, fireworks use is forbidden on all public property, including city streets, an often popular place to discharge fireworks because of the level surface and frequent absence of a tree canopy.
City ordinance also forbids the use of bottle rockets and similar self-propelled devices "consisting of a tube and attached guiding stock or rod." Stands are also banned from selling those particular types of fireworks.
Fireworks are limited to .25 grains of explosive mixture. That outlaws more powerful fireworks known by such names as M80s or cherry bombs, which cannot be sold in Kansas.