Summer project
Young
THS

players gain experience, improve at summer league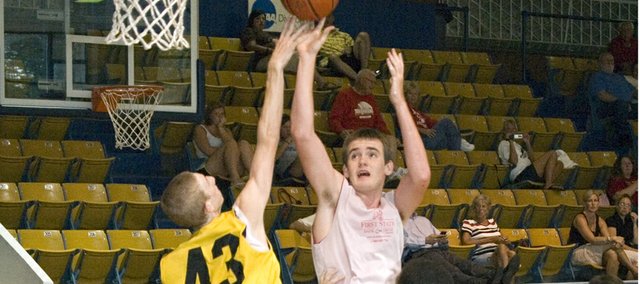 Photo Gallery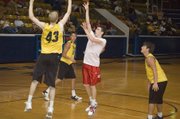 Chieftains play at RU summer league
The Tonganoxie High boys basketball team went 3-7 at the Rockhurst University summer league in Kansas City, Mo., in June.
Summer basketball is all about improving. In that sense, the Tonganoxie High boys are no different than any other team out there. The Chieftains, just like everybody else, want to put in the time and effort in June and July to make things easier come December through March.
That approach holds true for each THS player. A returning starter wants the very most out of his game. So does the guy who has never played a minute of varsity basketball.
Everyone wants to get better, but the summer experience — which for Tonganoxie meant two games every Tuesday night in June on the campus of Rockhurst University in Kansas City, Mo. — can be more valuable to certain players.
The Chieftains can be split into two distinct groups: Seniors and non-seniors. Seniors Dane Erickson, Dylan Jacobs, Brady Waldeier, Ben Williams, Brennen Williams and Colby Yates, who didn't play at Rockhurst in order to focus on golf, have been around. They know what it's like to go through the grind of a season, face Basehor-Linwood or play in a sub-state game.
The other guys don't. That's why THS coach Shawn Phillips thought the RU summer league, in which Tonganoxie finished 3-7, was very beneficial for the team's non-seniors — juniors John Lean and Keaton Truesdell and sophomores Tyler Ford and Eric McPherson.
As Phillips put it, the Chieftains will have a much different mix on the floor in 2011-12 and the younger players needed the summer league to learn what their teammates can do. Plus, facing bigger, more athletic players from other schools, all of which were larger than Class 4A THS, forced them to respond to adversity.
"Some of those guys have a chance to help us this year. It gives them a chance to play against some high competition," Phillips said of the summer league.
The Chieftains lost more often than they won at Rockhurst (they picked up their third win on June 28 in their league finale against a short-handed Lawrence squad), but Phillips said facing challenges on the floor was good for his team.
More importantly, the coach said the players showed a desire to keep fighting and didn't give up when they trailed on the scoreboard.
"If things don't go their way, it's not OK for them and they want to make sure we keep playing," Phillips said. "We don't just fold. We keep playing."
The non-seniors were a big part of that. Their coach said he learned a lot about Ford, Lean, McPherson and Truesdell.
"We've always had a pretty good feel about them," Phillips said. "One thing I do like is there's a little bit more competitive fire in them than maybe what we thought initially."
The younger group was able to "mix it up" with older kids, Phillips said, and each player was trying to get better.
"You can tell that they expect more out of themselves. They're not just happy to be there," Phillips said. "They're out there working to show that they belong."
According to the fourth-year THS coach, Ford helped handle the basketball and became a lot stronger with that responsibility. Lean, he said, has had "a really good summer" and displayed his scoring and play-making ability, while McPherson made an impact in the paint.
"Eric McPherson's really come along over the last couple of weeks," Phillips said. "He's becoming more of a post presence instead of just being out on the floor."

Lean said Truesdell has shown growth, too, and become more of a scoring threat than he was as a sophomore on the JV team. Additionally, Erickson said Phillips has often talked about the team's need for 3-point shooting and both Lean and Truesdell, as well as Brennen Williams, have stepped up to fill that need.
Erickson, Tonganoxie's senior all-league center, said the summer league made the younger players better.
"Its definitely helping them kind of get tuned in with the varsity side of things," he said.
More than that, the league helped Lean ease himself into a new role for THS. After playing limited varsity minutes as a sophomore, he was in the starting lineup at Rockhurst. On the final night of play, against Shawnee Mission South, Lean was scoring off drives and spot-up jumpers. He said facing programs such as SMS and having success has made him more of an impact player.
"I feel more confident, but I also feel like my role's a little bit bigger now after having a lot of key players leave," Lean said.
And even though Tonganoxie lost three seniors from the class of 2011, Phillips is excited about what he has seen this summer out of the team's non-seniors.
"We've had some younger guys step up and show that they want to play some minutes and they're going to earn those minutes," the coach said. "It's not something that's just given to them."