Tonganoxie Water Park remains cool place to be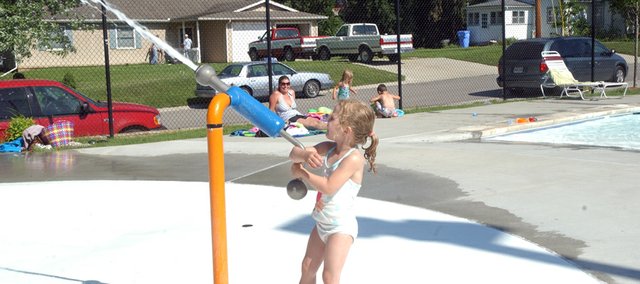 Darren Shupe was upbeat Friday for a man looking ahead to working a long and busy holiday weekend.
The Tonganoxie Water Park manager said he rarely took a day off during the pool's two-and-a-half month summer season. As for busy, that, too, has been the norm this summer.
Although new pools typically see a decline in attendance as the luster of their novelty wears off, that has not been the case with the Tonganoxie Water Park, Shupe said. Attendance in June was probably better than it was a year ago, which was the best June the pool ever had, he said.
"The warm weather early really helped," he said. "We had a lot of 500 (attendance) days."
Attendance figures Shupe shared show the pool had six 500-plus attendance days in June, topping out at 569 on June 14.
Also helping boost attendance was the temporary closing of the Bonner Springs pool and the city of Oskaloosa's decision to permanently shut down its pool, Shupe said. The result of the latter has been more customers from Jefferson County from Oskaloosa to McLouth.
Shupe is hoping July is better than June. Although that is the usual trend, July's attendance was down last year because of cool, wet weather, he said.
Swim lesson totals are also up from last year, Shupe said.
All this is good news to Tonganoxie taxpayers, because the more money the pool makes from attendance, lessons and concession, the less mill levy support it requires. Last year, the pool produced $121,113 in revenue, which was just $1,344 less than its total expenditures.
That could be difficult to duplicate this year even if the pool outdistances last year's attendance because more parts in the chemical shed needed replaced this year with another year of age, Shupe said.
Another economic benefit is the pool's draw to downtown of local and area residents, Shupe said. Helping with that was the recently concluded swim meet schedule that brought visiting teams to Tonganoxie, he said.
The pool also provides hard-to-find summer jobs for 25 lifeguards and seven concession or support staff positions, Shupe said.
The pool's design, particularly its zero-point entry and different features that appeal to different age group, helps explain its continued popularity, Shupe said. But from compliments he and staff receive, customers also respond to the staff professionalism stressed at the pool, he said.
"We're fortunate to get quality kids to step into professional roles," he said. "They get a lot of feedback from me. I stress professionalism to our guards. The first thing people see when they drive by a pool are the guards and if they are at their posts and paying attention. That makes a big impression."