Voicing praise for veterans in Tonganoxie
Local country music singer aids effort to decorate vets' graves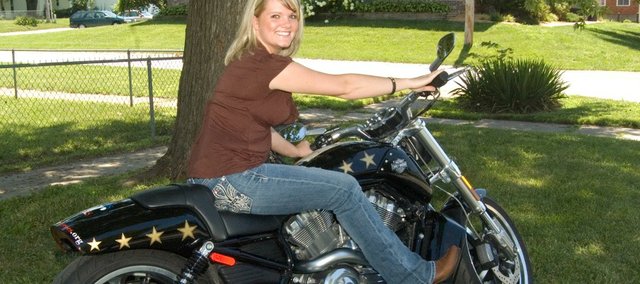 Tonganoxie resident and country music performing artist Joey Glenn keeps a busy schedule performing throughout the year.
And as she's singing her music, she's also working to help military personnel — past and present — as well as their families and to honor those who have passed.
Glenn helps promote Flowers for Heroes, a nonprofit organization with a simple mission: To place flowers at the base of every headstone in every national cemetery.
The local musician met Flowers for Heroes founder Russ Phillip Jr. a few years ago and she now is helping promote the organization.
"He liked my music and the way I sang and we had a lot in common with the military," said Glenn, who has family members, including her father, who have served. "He asked me to be the artist for Flowers for Heroes."
A Harley Davidson dealership recently donated a motorcycle — a 2009 Harley V-Rod — to Flowers for Heroes. The bike is adorned with Flowers For Heroes logos, as well as gold stars and Battlefield Crosses. The "crosses" consist of a gun with barrel at the base, a helmet on the gun's butt and two GI boots near the gun's barrel.
The gold stars also symbolize the organization's work in assisting Gold Star Families: family members of fallen soldiers.
The motorcycle is being raffled off at $10 for one ticket or five for $40.
Glenn said organizers were looking to raffle the ticket off around Veterans Day, possibly sooner.
For more information on raffle tickets, email kbabymngr@aol.com or search "Joey Glenn" on Facebook for her public figure page.
The motorcycle possibly will be on display during Leavenworth County Fair week, Aug. 9-14, with it potentially being in the fair parade Aug. 9 through downtown Tonganoxie.
Glenn continues her efforts for those in the military with an August event in Chicago. She will be a headliner Tuesday, Aug. 23 at Soldier Field, the home of the Chicago Bears, which seats more than 60,000.
"It's pretty exciting and I'm a little nervous," she said about performing at what would be her largest venue to date. "It will be a great experience. I was very, very honored to be asked to do it.
This past year, the event attracted 4,000 people, 2,500 of whom were current military and veterans.
Others expected to perform are the Blues Brothers, members of Boston and Rockie Lynn.
Now 23, Glenn has been performing since she was 13. She's released a handful of albums and is artist with KMA Records out of Nashville, Tenn.
"They've been really supportive," she said of her record label. "It's been fun."
She usually is performing four to six months out of the year, but took some time off to get married in May to Brandon Herrig of Nortonville. When she's not performing or writing music, she's a stay-at-home mom with her son, who will start kindergarten in August.
She performs mainly in the Midwest, though she sang this past year in Virginia for a harvest festival.
"It's all day music and seven different stages set up," Glenn said. "You just bounce around from stage to stage. There were so many people there."
In addition, she has a friend who is a DJ in Kentucky who has a barbecue in his back yard for listeners at which Glenn has performed.
She's found that a song from her album Driven by Emotion, entitled "I Really Miss Seein' You," is a favorite among military members and their family.
Through her music, she's able to continue to promote Flowers for Heroes.
"I've met some families who didn't even know the organization existed," she said. "They're really appreciative of it. We wanted to help out in any way we could and we're very thankful for it."