Tonganoxie High School student dies in Thursday rollover accident in Basehor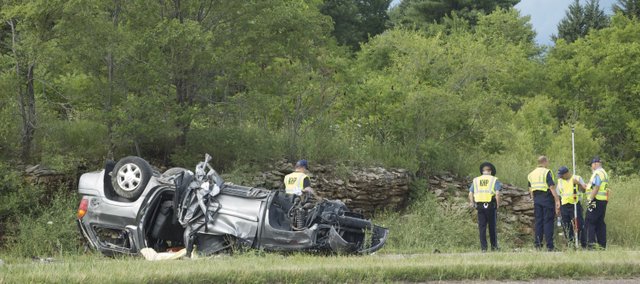 A Tonganoxie High School student died in a rollover accident Thursday afternoon on U.S. Highway 24-40 in Basehor.
Kylee Nicole Wilson, 16, Leavenworth, was driving a 2005 GMC Envoy west on U.S. 24-40 just east of 150th Street when she lost control of the vehicle and drove into the north ditch, according to Kansas Highway Patrol reports. She swerved for about 500 feet before entering the ditch, KHP Lt. Josh Weber said.
Wilson was pronounced dead at 3:20 p.m., according to reports. She would have been a junior in the fall at the high school, a school official said.
A passenger, Haley L. Sparks, 14, Leavenworth, was taken to Kansas University Hospital in Kansas City, Kan., with what Weber said were nonlife-threatening injuries. A nursing supervisor there could neither confirm nor deny Thursday evening that Sparks was a patient.
Wilson was following another vehicle, a 2000 Ford Expedition, according to reports. The driver, Jacob Ryan Lynch, 17, Tonganoxie, and a passenger, Samuel Christopher Cook, 15, Leavenworth, were not injured, according to reports.
Weber said officers were investigating whether Wilson's Envoy made contact with the Expedition. The driver of the Expedition pulled over immediately and spoke with officers at the scene, Weber said.
All four teens were wearing seat belts, according to the report.
Also Thursday night, Tonganoxie USD 464 Superintendent Randy Weseman and THS administrators released this statement:
"The Board of Education and USD 464 wish to express their deepest sympathy at the loss of Kylee Wilson. Our prayers, thoughts and efforts will be directed toward the support and comfort of family and friends."