Tonganoxie community holds vigil in honor of student killed in rollover accident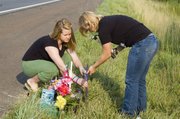 Whether early morning or as the sun was setting, friends and family were honoring a Tonganoxie High School student Saturday.
Kylee Wilson, a 16-year-old Leavenworth girl, died Thursday in a rollover accident on U.S. Highway 24-40 east of 150th Street near Basehor.
Saturday morning, a few friends put crosses and flowers at the accident site.
Rebekah Adcox, a dance team member with Wilson, was one of Wilson's friends who visited the site Saturday morning.
She talked about there not being a "guidebook" to dealing with such tragedies, but that community members could find strength in each other.
Adcox reiterated that thought Saturday night at a candlelight vigil outside Tonganoxie High School as friends, one by one, took the microphone and spoke about Wilson.
But as Adcox talked about Wilson always having a big smile, she also shared that Wilson was small in stature.
Adcox said Wilson occasionally would jump inside a teammate's duffel bag — and fit.
"Any small space no one else would fit, she would fit," Adcox said.
Tears were met with laughs as friends shared their stories. The common message: It was hard to find a time when Wilson wasn't smiling or making others smile.
More than 150 people gathered for the vigil in which purple ribbons — it was Wilson's favorite color — were handed out. Bracelets also have been ordered that read "R.I.P. Kylee Wilson."
Proceeds from the bracelets will go toward Team Tongie, a nonprofit organization created in 2009 to help families in the Tonganoxie community facing serious health issues.
The vigil concluded with those attending forming a large circle, hand-in-hand, for a final prayer.
Thursday's accident happened about 3 p.m. Wilson was following a Ford SUV driven by another THS student, Jacob R. Lynch, when she lost control of the GMC Envoy she was driving, Kansas Highway Patrol reports said. Lynch and a passenger, Samuel C. Cook, 15, Leavenworth, were not injured. Haley L. Sparks, a passenger in Wilson's vehicle, was taken to Kansas University Hospital. She and Lynch were in attendance at Saturday's vigil.
Wilson's family will meet friends from 5 p.m. to 8 p.m. today at Tonganoxie Christian Church, 204 Washington St. Services will be at 10 a.m. Monday at the church.