Chieftains go unbeaten
THS

girls finish 8-0 at Bonner Springs summer league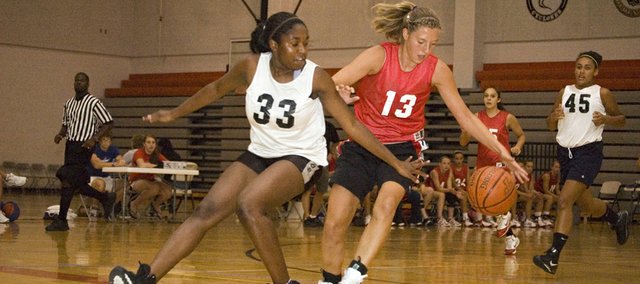 Photo Gallery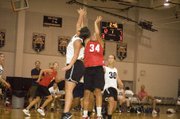 THS girls finish 8-0 at summer league
The Tonganoxie High girls basketball team finished undefeated at the Bonner Springs summer league with a 43-19 win against Maranatha Academy on July 6.
Bonner Springs — The plan was fairly simple July 6 for the Tonganoxie High girls basketball team. All the Chieftains had to do was take the floor at the Bonner Springs YMCA and beat Maranatha Academy and they would finish undefeated at their Wednesday night summer league.
Not too long after the opening tip-off, it became clear THS was on its way to an unblemished record. With Haley Smith hitting from outside and Emma Stilgenbauer creating second-chance opportunities with her work on the offensive glass, the Chieftains led big early and cut out the possibility of any drama in their league finale.
By the time the blowout finished, Tonganoxie was up 43-19 and had achieved summer league perfection.
The blowout wasn't exactly an accurate snapshot of the Chieftains' summer league experience — there were some close games, too — but the result was the same. Tonganoxie finished 8-0, beating Bonner Springs, Basehor-Linwood, Lansing, Piper, Kansas City-Schlagle, Kansas City-Sumner Academy and Maranatha Academy (twice) in the process.
Tonganoxie sent 12 players onto the floor in its eighth straight victory and nine of them — Smith, Stilgenbauer, Jenny Whitledge, Tavia Brown, Hannah Kemp, Madee Walker, Katelyn Waldeier, Kara Banks and Emily Soetaert — scored.
A rising junior, Whitledge said finishing unbeaten felt "kind of amazing" because four of the Chieftains' opponents were from the Kaw Valley League. She hoped THS could ride that success going forward.
"I really hope that it carries on into our school season," Whitledge said.
Predictably, Tonganoxie coach Randy Kraft wasn't quite as excited about his team's record. What was the significance of being 8-0 in the summer league?
"I don't really put a whole lot into it," Kraft bluntly said.
THS played in a number of games this summer. An MAYB tournament in Topeka, a jamboree in Lawrence and a trip to Harrisonville, Mo., were also part of the June and July schedule. Kraft said those games in total — especially the ones that were more competitive and weren't decided until the final minute or seconds — helped the team more than an easy victory like it experienced in its summer league finale. The Chieftains lost a pair of one-point games at the MAYB tourney and lost a game in Lawrence that came down to the final possession.
Tonganoxie won a few close games, too, and that is why the coach thinks his team is improving.
"This summer's been good for us in the fact that we've had some pretty good competitive games and every one of them has made us better," Kraft said.
The last couple of seasons, THS has come up short in a number of tight games. Kraft hoped experiencing wins in those situations this summer will teach his players how to close out a victory.
"We're starting to learn how to finish a game and play better of late," he said.
The Chieftains were able to finish off tight summer league games, Whitledge said, against Bonner Springs, Basehor-Linwood and Lansing. They knew those teams were more skilled than others and capable of taking it to Tonganoxie. Although THS might have played a little intimidated in the first few minutes of those games, Whitledge said they knew the final minutes were what mattered most.
"Then we really turn it on," she said.
That's why they came out on top. Whitledge said the Chieftains' approach on the floor focused on going hard, playing defense and having confidence to know they can win.
"Hopefully everyone takes the same attitude they had toward this league (when the regular season starts)," she said.
Overall, Kraft liked the way his team played this summer. Even on days when the Chieftains were missing one or two players, they found a way to win their summer league games. He said that was likely the result of the team's leaders and what they have learned during the past few years.
"They kind of have a different attitude this year," Kraft said. "Our youth has now had some experience with being older and I think they're starting to understand a little bit better."
Tonganoxie 43, Maranatha Academy 19
THS 22 21 — 43
MA 10 9 — 19
Tonganoxie scoring: Haley Smith 10, Jenny Whitledge 2, Tavia Brown 8, Emma Stilgenbauer 10, Hannah Kemp 5, Madee Walker 1, Katelyn Waldeier 2, Kara Banks 2, Emily Soetaert 3.