THS

soccer secures top 2 spots at 3-on-3 tourney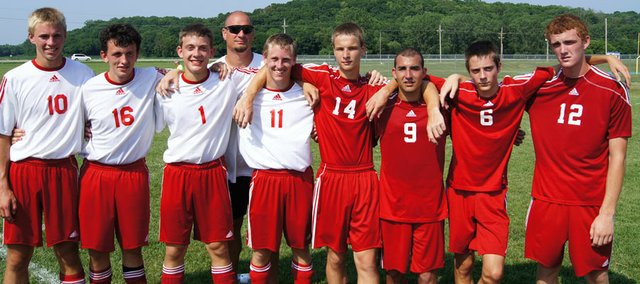 When the Tonganoxie High boys soccer team decided to take a handful of players to a nearby three-on-three tournament, they went there hoping to help out another program.
The Chieftains did just that in a fundraiser at Perry-Lecompton on July 8 and 9, but they also got to do some celebrating as Tonganoxie's two teams finished first and second at the tournament.
Team 1 from THS (comprised of Tyler Bartholomew, Matt Briggs, Matt Saathoff and Marcus Titterington) beat Team 2 from THS (featuring Evan Lott, Joseph Parrino, Zack Tallent and Colton Young) in the tournament final, 11-5. Both teams were undefeated before playing for the championship.
After seeing both Tonganoxie teams go unbeaten in pool play that weekend, THS coach Brian Kroll suggested that if they were to meet in the final, all the Chieftains should just walk out to the middle of the field, shake hands and call it a day. He said a couple players were on board with that plan, but once the matchup became official, the seniors wanted to play.
As soon as the game got started, Team 1 scored quickly, but Team 2 answered and the competitive juices started flowing.
"Team 1 was older and had been playing together longer," Kroll said. "They probably wanted it a little more."
The team of Bartholomew, Briggs, Saathoff and Titterington dominated in its six 30-minute games, which were played on smaller, youth-sized fields without a goalkeeper. Team 1 ended up outscoring its opponents 63-9. Team 2 from THS was the only foe who kept the score relatively close.
"They went in with very low expectations but as the tournament started, they figured out they could actually do something," Kroll said of the two Tonganoxie teams.
He said the players got confident, started figuring out how to win and, because they were believing in themselves, the usual teammates became opponents in the final.
Kroll said the tournament was organized as a fundraiser by parents of players in the PLHS soccer program, because it is in jeopardy of being eliminated at the school.