Lightning strikes downtown Tonganoxie building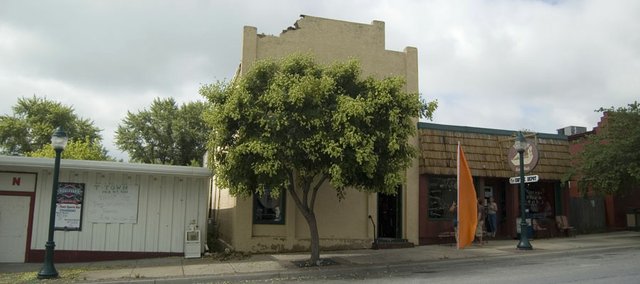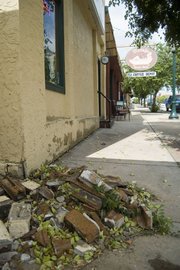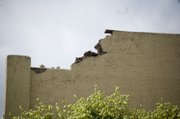 A lightning strike in downtown Tonganoxie Tuesday night blasted bricks off the top of a building and fried a few electronic devices at a local business.
The lightning hit the upper northeast corner of 628 E. Fourth St. during a storm at about 9:45 p.m. Tuesday according to Davo Howe, who lives in a second floor apartment at the address.
Howe said the blast frightened not only him, his girlfriend Katie Coleman and his Shih tzu Leilia, who were in the apartment at the time of the strike, but also patrons next door at T-Town Sports Bar & Grill.
The explosion of bricks left debris on the sidewalk and street nearby, Howe said, and when some of the flying rubble hit the T-Town roof, he was told by people inside the bar at the time that they thought a tornado had hit.
Wednesday morning the mess of bricks had all been cleaned up. However, a few devices at The Coffee Depot, which Howe owns, were no longer functioning. Located at 626 E. Fourth St. with Vintage Soap & Bath, The Coffee Depot shares a common wall with the building that was hit. Howe said the shop's neon sign and credit card machine were among the devices "fried" and not working following the strike, and the phone line at the business had a crackling sound.
Howe also said the TV in his apartment still works, but now there is a large green fuzzy area in the center of the screen.
Oddly enough, H. Ave., 628 E. Fourth St., did not have any problems with its electronic devices Wednesday morning, owner Donna Hoegler said.
Although that shop is located in the structure that was struck by lightning, Hoegler said as of Wednesday morning she hadn't come across any problems. A couple of breakers had tripped, she said, but everything else appeared to be in working condition. She said her store had yet to run a credit card Wednesday morning, so that was one uncertainty.
"We're kind of waiting for someone to come down and make sure the structure's safe," Hoegler said of her main concern.