Post 41 finishes undefeated season in anticlimactic fashion
Tonganoxie officially 20-0 after Easton forfeits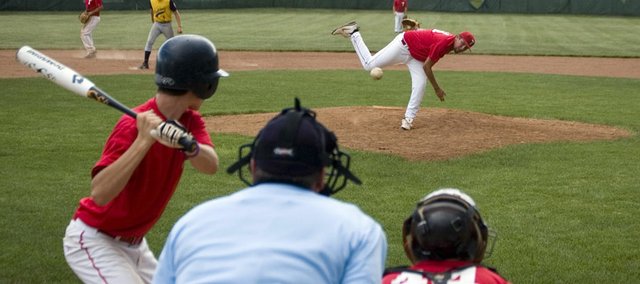 Photo Gallery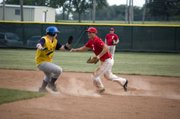 Post 41 faces Easton (sort of)
Tonganoxie's Post 41 baseball team was scheduled to face Easton in its regular-season finale on Tuesday. When the Outlaws didn't have enough players, Tonganoxie loaned some of its players to the visitors. Easton forfeited the doubleheader and Post 41 finished the regular season 20-0.
Having won its first 18 games of the year, Tonganoxie's Post 41 American Legion baseball team was poised Tuesday evening to close the regular season with a perfect record.
A sweep of the visiting Easton Outlaws at Leavenworth County Fairgrounds would assure the team of an undefeated season.
Although players from both teams took the field, no official game was played. In an about as anticlimactic fashion as imaginable, Tonganoxie finished the 2011 regular season unbeaten when Easton didn't have enough players to field a team and had to forfeit.
Because Easton had eight players at the field Tuesday when a doubleheader was supposed to start and players from both teams wanted to play, Post 41 coach Nick Walters said, the coaches decided to scrimmage and Tonganoxie allowed Easton to essentially borrow one of its players, Luke Faherty. When the Outlaws took the field in the bottom of the first inning, Faherty's red jersey stuck out as the rest of the defense wore yellow.
Walters said it was a strange way to end such a successful season, but things got even weirder in the fifth inning, when a couple more Easton players informed their coach they had to leave.
Post 41 ended up having three of its players become Outlaws for the night and what ensued amounted to an intra-squad scrimmage with AJ Gilbert and Ben Williams joining Faherty on the visiting team. Easton had Tonganoxie players in the field and sent them to the plate, which led to Post 41 members hitting and scoring runs against their own teammates.
Because Easton didn't have enough players, Walters said, Tonganoxie picked up two wins via forfeit to finish the regular season 20-0.
The Easton squad, with the help of Post 41 players, actually was ahead in the scrimmage, 9-7, when stormy weather forced the exhibition to be called off in the seventh inning.
At 6 p.m. Monday in Kansas City, Kan., Post 41 is scheduled to begin its postseason in a zone tournament. Tonganoxie will face the Kansas City Cyclones at Eisenhower Park, which is off of N. 72nd St., north of Parallel Parkway.
The two other teams playing in the double-elimination tournament are Baldwin City and Wellsville.