Killer heat at 'Sokker Kamp'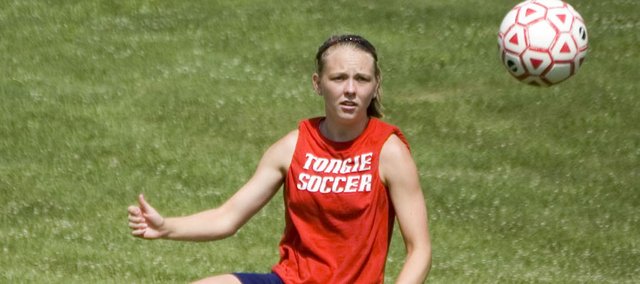 Photo Gallery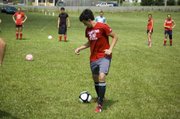 THS "Sokker Kamp"
Members of the Tonganoxie High girls and boys soccer programs participated in "Sokker Kamp" with THS boys coach Brian Kroll and girls coach Justin Seever from July 11-15.
If he were a harsher person or the heat and humidity weren't busy making things miserable, Tonganoxie High boys soccer coach Brian Kroll — "Coach K," as the players call him — would have been much tougher on the 38 girls and boys who showed up this past week for THS "Sokker Kamp."
With the sun beating down and the humidity high, conditions were hot and muggy July 11-15 on the THS west campus as campers kept hydrated and battled through the Kansas summer heat in order to improve their footwork, ball handling and overall soccer skill sets.
Kroll's "kamp" had a looser feel than he would have liked because of the hot conditions. Ideally, he said, he would have set a strict tone on the first day.
"It makes it really difficult when it's this hot, because when they're not necessarily cooperating or doing what it is that I'm asking them to do, then punishment tends to straighten them out," Kroll explained, alluding to punishment runs and other kinds of disciplinary conditioning. "And you can't do any of that in this type of weather."
Although the coaches (THS girls coach Justin Seever aided Kroll at the camp) might have let up some on the players as a reward for them showing up and performing in the dog days of summer, the Chieftains still felt the effects of the heat.
Emma Stilgenbauer, a sophomore for the THS girls, said it was a tough five days.
"You would go out, do something for a minute and you're like (panting), 'I need a water break,'" she said. "I was surprised how well we did through the heat. We actually got up and down the field a little."
Tyler Bartholomew, a senior with the Tonganoxie boys, said the misery was outweighed by what was accomplished at camp.
"The heat was killer, but getting out here playing, seeing everybody working hard, it was good," he said.
Re-introducing the players to the fundamentals, Kroll said, was his focus at the camp.
"For whatever reason, it's the fundamentals that seem to get lost," the coach said. "They tend to want to go further than they're truly capable of going without using the basic fundamentals and you can't do that. You've got to have a strong base foundation."
Familiar faces from both THS soccer programs were at camp for the refresher course. Among the girls attending were Aly Bartholomew, Kelsey Briggs, Alissa Donnelly, Taylar Morgan, Stilgenbauer, Chris Tiner and Molly Welsh. Among the boys who participated at camp were Matt Briggs, Tyler Bartholomew, Jeremy Fox, Thomas Fox, Conner Kietzmann, Evan Lott, CJ Mills, Matt Saathoff, Zack Tallent, Marcus Titterington, Keaton Truesdell, Colton Young and Daniel Monahan, who will be new to the program as a senior.
It was only the second time Tonganoxie had a summer camp and though both girls and boys took part in last summer's first edition, Kroll said having Seever, who did a lot of one-on-one work with goalkeepers, coach at the camp made it even better.
"It was awesome having him out here, if for no other reason in the world, because now it puts the boys program and the girls program on the same page. And it lets them know that … it's not Tongie boys soccer and Tongie girls soccer, it's Tongie soccer," Kroll said. "We have pretty much the same mindset for where we want things going."
At the completion of the fifth three-hour day at camp on Friday, the coaches handed out three awards. Standout Girl went to Stilgenbauer, Standout Boy was awarded to Kietzmann and Overall Camp Stud was won by Aly Bartholomew. Kroll stipulated that seniors were not eligible for the awards because they are expected to play at a high level without being rewarded.
Aly's older brother, Tyler, said it was her defense that led to her award.
"She has no offense, but her defense is killer," he said, like a true big brother. "I like going up against her, because I've got a little bit more forward mentality and she's stupid good on defense. It's fun to go against her and just be out here with her playing, seeing everybody get beat by her. It's fun."
Other campers impressed, too. Kroll said the skills of Morgan, Kelsey Briggs and Donnelly were good to see. For the boys, the coach said incoming freshman Kyle Caldwell proved he wasn't afraid to play with the older kids and Young stepped up with his goalie work.
"He is a workhorse," Kroll said of Young. "He's just awesome."
The girls felt as if they accomplished something important at camp, Stilgenbauer said.
"As a group, we know each other better," she said. "We became more like one team. We started talking to each other, communicating."
Tyler Bartholomew said the boys enjoyed the camp experience, as well.
"It was fun to get back out here and for all of us to get together, give us a look at what we'll have this season," the senior defender said.