Post 41 sent packing by Wellsville
Tonganoxie follows perfect regular season with back-to-back playoff losses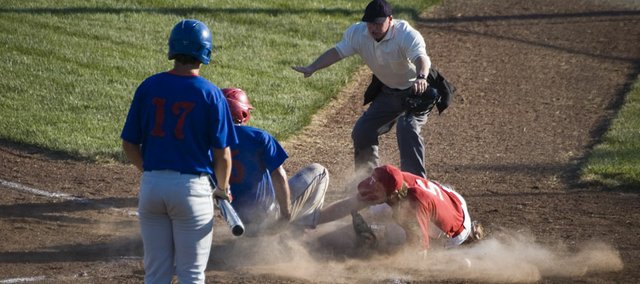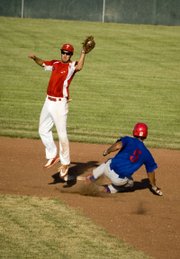 Kansas City, Kan. — An undefeated regular season ultimately didn't do much good for the Post 41 baseball team's postseason livelihood.
Tonganoxie's American Legion squad entered the Class AA Zone 2 tournament with a perfect record and left without a playoff victory following a season-ending 8-6 setback against Wellsville Tuesday night at Eisenhower Field.
Post 41 (20-2) was bounced out of the double-elimination tournament with losses on back-to-back nights after winning 20 games in a row — two by forfeit — in the regular season.
Tonganoxie coach Nick Walters said beating up on lackluster opponents in the weeks leading up to the zone tournament didn't help his team's cause.
"I guess when it comes to the tournament play, we just didn't have a strong enough league," Walters said, before shouldering some of the blame for the unexpected end to the season. "As coaches, I'd say we didn't get them prepared enough for the heat or the little bit better competition throughout."
Wellsville (15-12) trailed, 4-3, after five innings but regained the lead with a five-run sixth. Post 41 mistakes paved the way for the visitors to tie the game at 4. After relief pitcher Dylan Puhr walked the first batter in the top of the sixth, third baseman Amos White committed an error that put runners on the corners with no outs. Wellsville scored the tying run when a passed ball got by catcher Cody Saladin.
Next, Puhr forced a pop-up to short before walking a batter. Wellsville again had runners on first and third when shortstop Corey Klinkenberg couldn't grab a grounder to his left and the error allowed Wellsville to take a 5-4 lead.
The next batter, Nolan Rush, rocketed a line drive to center field, where Austin Harkrader laid out trying to make a spectacular catch. However, the ball was just out of his reach and the two-run triple increased Wellsville's advantage to 7-4. Rush later scored on a passed ball with two outs and the visitors had turned a one-run hole into a four-run lead late in the game.
Post 41 pieced together a two-out rally in the bottom of the sixth. With two down and nobody on base, Garret Elston and Puhr both reached after being hit by a pitch. That allowed Tyler Freeman to cut Wellsville's lead to three with an RBI-single. A base hit up the middle by Dylan Fosdick made it an 8-6 game before the inning ended.
Although Puhr, who fanned seven hitters in three innings of work, struck out three of the five batters he faced in the top of the seventh and kept Wellsville from scoring, Tonganoxie went down in order in the bottom of the frame to end the season.
Post 41 couldn't get anything going in the first four innings. Only Puhr and Amos White had hits for Tonganoxie through four and a half innings and the zone tournament's top seed trailed, 3-0.
It briefly appeared as though Post 41 had reversed its bad fortune with a four-run bottom of the fifth. Brett Bolon led off the inning with a walk and Harkrader singled to left field to give Tonganoxie a pair of runners on the base paths for just the second time in the game. With one out, Puhr delivered a two-run triple to left field, cutting Wellsville's lead to 3-2.
Freeman followed up the big hit with a ground ball to second base and an error allowed Puhr to score and tie the game. Fosdick singled to right and later scored on a base hit by Saladin, giving Tonganoxie its first — and only — lead of the evening.
Fosdick started on the mound for Post 41 in what proved to be the final game of the season. He threw four innings before being relieved by Puhr and struck out five while giving up four hits and two earned runs.
Tonganoxie's offense couldn't capitalize on the solid start, though. Post 41 was held scoreless in five of the seven frames.
"You've got to play seven strong innings," Walters said, "and we haven't done that in both games."
Wellsville 8, Post 41 6
Wellsville 0 0 0 2 1 5 0 — 8
Post 41 0 0 0 0 4 2 0 — 6