Headed home early
Post 41 points to reasons for 0-2 showing at zone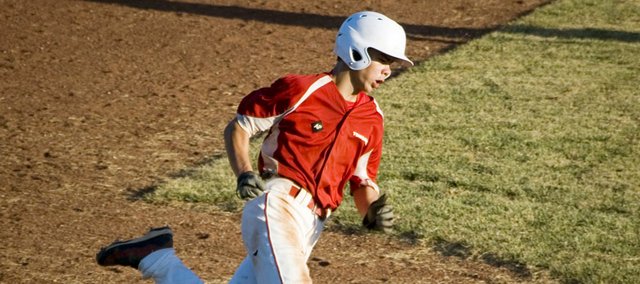 Throughout the regular season, baseball came quite easily for Tonganoxie's American Legion team.
Wins kept piling up for Post 41. There were 10 victories by 10 or more runs, extra-base hits to spare and a perfect game for one of Tonganoxie's pitchers.
The team ran through league play like a wrecking ball through a popsicle stand. Post 41 did whatever it wanted to. And there was nothing the opposition could do to stop it.
Entering the postseason, Tonganoxie had outscored its opponents by 178 runs in 18 games (it won twice by forfeit for a 20-0 regular-season record). Post 41 was the No. 1 seed for the Class AA Zone 2 tournament at Kansas City, Kan. All the team had to do was avoid losing twice in the double-elimination tourney and Tonganoxie would be headed to the state tournament.
Much to the dismay of the Post 41 players and coaches, however, they were unable to win the zone tournament — or even a game — and the season came to an end with an 8-6 loss to Wellsville on July 19 at Eisenhower Park.
The team that couldn't be stopped, all of a sudden, couldn't get a win. Tonganoxie had twice won games by 17 runs during the regular season. It had won other times by 16, 15, 14 and 13. But the top seed was outscored 17-14 in two losses at the Class AA Zone 2 tournament.
So what happened? How did Post 41 go from unbeaten and feeling like a trip to state was inevitable to failing to win a single postseason game?
According to Tonganoxie's players and coach, a number of factors led to the disappointing end to the season.
Weak schedule
One of the most often cited causes for Post 41's 0-2 record at zone was being unprepared. Shortstop and pitcher Dylan Puhr said the team's regular-season slate was far too easy.
"We kind of messed up not playing teams we know we should've played," he said.
The teams that were on the schedule, Corey Klinkenberg said, turned out to be far inferior to the ones Post 41 met in zone play.
"We played a lot better teams than we did during the regular season," Klinkenberg said of the Kansas City Cyclones and Wellsville. "They weren't teams that we couldn't beat. Just little things killed us."
Pitcher AJ Gilbert, who started in the team's 9-8 loss to the Kansas City Cyclones on July 18, said the team felt like it could handle the jump up in competition.
"Every game we expected to win," Gilbert said. "I guess during the regular season the competition wasn't that great."
Klinkenberg said it was a bit of a shock to the system to have an opponent battle back and forth with Tonganoxie.
"That wasn't something that we were used to," he said. "We usually run-spread the teams that we played every night, then we came out the last two nights and actually had to play baseball and you actually had to put up a fight."
It wasn't as if the players were blindsided. Tonganoxie coach Nick Walters pointed out that they had talked about the postseason being more difficult.
"We knew the teams would be better," the coach said. "These kids (who threw for K.C. and Wellsville) were a lot better pitchers.
Still, Puhr said Post 41 didn't know exactly what their playoff opponents would be capable of doing.
"Once we got there, we saw that our level of competition had gone up and we had to play that much better," Puhr said. "But it didn't seem like a big problem."
Baseball hubris
That feeling prevailed among the players and, in hindsight, some admitted their overflowing confidence might very well have led to the squad's demise.
Centerfielder Austin Harkrader said Post 41 assumed winning the zone tournament wouldn't be too difficult.
"We thought we were just gonna walk in there like the regular season, a big cake walk, and go to state," Harkrader said. Instead, he added, Post 41 was the team with the target on its back and the other teams came to knock Tonganoxie out.
Gilbert said Post 41 players expected wins to come pretty easily and their overconfidence didn't help them any.
"There's a happy medium of how good we think we are and how good we really are," Gilbert said. "We were probably a little too cocky going into it. And it didn't turn out too good."
Walters didn't think Tonganoxie went to zone with a cocky attitude. He pointed to the lack of a league tournament and going from July 9 to July 18 without playing as two reasons for his team's two losses.
"I think we had a bunch of time off and it's hard to get them out there every day to practice when you don't have a game for two weeks," the coach said.
"Those things don't help, but… maybe we had a little too much confidence."
Lack of interest
Puhr gave perhaps the most shocking reason for Tonganoxie getting booted swiftly from the playoffs. He said the main cause for things going downhill was a feeling of apathy.
"A lot of guys just didn't want to be there," Puhr said. "One of things you absolutely have to do is you have to want to be there or you're not gonna win a baseball game."
What led to that?
"I don't know," he said. "I think it might've been the fact that we were 20-0 and they thought we were just gonna blow through it and go to state and have a good time."
Harkrader saw some of that indifference in his teammates, too, when Post 41 was trailing.
"You could kind of sense that a little bit," he said. "Some guys were kind of mopey around the dugout."
Harkrader said he got that vibe from a few players and couldn't understand it.
"I love to play baseball and I give 110 percent every time I play," he said.
If anyone thought Tonganoxie would win just by showing up, Harkrader added, he was wrong.
"You've got to do everything to your best ability to pull out a win," he said, "especially against the teams we were playing in the tournament."
Gilbert said the extreme heat, with game-time temperatures at 100 degrees, and falling behind on the scoreboard led to a sour mood in Post 41's dugout.
"People's attitudes just dropped. There's a group of four or five of us that are there to win and there to win every game," he said.
Gilbert said when things weren't going Tonganoxie's way, some players became disinterested.
"They just want to pack up and go home," he said. "I could definitely see that."
Bad end to good year
Klinkenberg played for the Post 41 team that went to state in 2009 and said this team had just as good a chance of doing the same. Harkrader said coming up short of a state berth was disappointing, because getting there was the ultimate goal.
"We kind of had our whole life based around that this summer," Harkrader said. "It was a big devastation, for me anyhow."
When the season came to an abrupt and unexpected end, Walters said, the players were left "a little shell-shocked" after going 0-2 at the zone tournament.
"It's just hard to be a team that wins every day and then comes out and gets beat around a little bit," Walters said. "You can't practice for being beat."
Ultimately, though, Harkrader said Post 41 had at least one thing about which to be proud.
"How many other times does a team go undefeated in a season?" he asked.
More like this story