THS

volleyball finishes 11-3 at league without help of coaches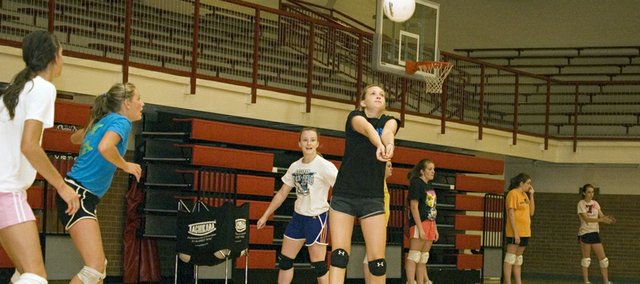 When it came to working with Tonganoxie High's volleyball team for summer league games this year, co-coaches Brandon and Tiffany Parker had a very specific approach: Hands off.
The Parkers were coaches only in name as the Chieftains took on teams from other schools on Tuesday nights in June and July. Brandon Parker said they were more observers than anything for the matches, just sitting on the sideline and taking in the action.
"We let the kids coach themselves," he said.
The approach worked. Tonganoxie amassed an 11-3 record in summer league contests. The level of competition varied from match to match, but Parker said THS had some pleasing victories, including wins against Olathe North, Leavenworth and Pembroke Hill (Kansas City, Mo.).
With volleyball being a fall sport, and the start of pre-season practices not too far away (fall practices begin Aug. 15), Parker said the Tonganoxie staff has never really been into coaching a lot during the summer months.
"Before too long, we're gonna be coaching them," he said. "I think too much coaching, especially when you lead it right up to the season, it becomes a little monotonous and it kind of takes the freshness of August 15th out of it."
With the players doing their own thing, senior libero Megan Hummelgaard said, it led to a looser atmosphere, which the Chieftains enjoyed.
"I think we responded really well," she said. "It's always good to be able to play like that without necessarily a coach always telling you what to do and when to do it."
Parker said the coaches knew the players could handle game situations without their input.
"Our kids are smart," he said. "They can figure some things out on their own. They've been doing it long enough."
Hummelgaard said the players would gather after each match and discuss their mistakes and other things that came up. The libero and Tonganoxie's other seniors, Brooklyn Kerbaugh, Kailan Kuzmic, Sagan Scates and Haley Smith, typically led the sessions.
According to Hummelgaard, Kerbaugh always talked about what the blockers needed to do and who needed to be where up front. Smith and Hummelgaard, meanwhile, would address issues in the back.
"We found out what we did wrong and what we needed to fix and we went out there and we did it," Hummelgaard related. "It was nice. It was a good feeling to be able to do that without a coach."
Breaking things down for themselves, Parker said, was good for the players.
"It's a summer league game. They don't need us," he said. "It's good for them to problem-solve."
When it came to wins and losses, THS didn't have many problems this summer and the three matches they lost were pretty easy to figure out. All three setbacks came when THS was missing key players. Kuzmic and Jenny Whitledge had to miss one night of summer league and both the team's setters, Scates and Hannah Kemp, couldn't be there another night.
When everybody or most everyone — Madee Walker, Katelyn Waldeier, Caly Ingle-Maxwell and Olivia Hollingsworth also played — was there, the Chieftains found a way to win. Hummelgaard said that gave them a good feeling.
"We were able to go in there and play, yet we had fun at the same time," she said.
The coaches noticed the laid back approach, Parker said, and they didn't mind it.
"For the most part, they just kind of came out and hit some and played and didn't worry about too much," the co-coach said.
Ultimately, he added, the coaches just hope the Chieftains will learn something from coaching themselves and having success. He said the experience should prove beneficial.
Tonganoxie's players hope that will be the case, Hummelgaard said, and they enjoyed having a different approach for the summer league.
"Our playing so good without them," she said, "kind of makes us think, 'We're good on our own, with them we could be like 10 times better.'"