German, Norwegian embrace year of adventure at McLouth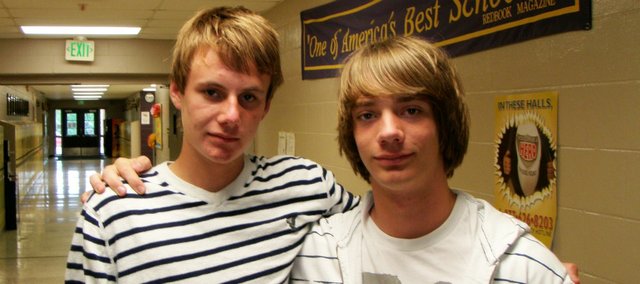 Before two foreign exchange students shipped off for the United States this past August, one letter in their first names and about 900 miles separated them.
In the roughly nine months they've attended classes at McLouth High School, though, they've become inseparable.
Marius Manke-Reimers is from Dusseldorf, Germany, while Markus Blaker hails from Oslo, Norway.
The two arrived this past August at Kansas City International Airport. Their flight was early, but it still arrived in the middle of the night.
They were expecting their host mother, Diane Smith, to pick them up at the airport. Instead, it was one of her sons.
"Fifty-year-old woman," Markus said, recalling that he was expecting to see Diane at the airport. "There was no 50-year-old woman … I got a little scared."
Their introduction to Kansas, of course, was its most pleasant — the dog days of August. Markus and Marius rattled off some nuances with which they had to get acclimated.
First of all, they recalled the sound of crickets during a Kansas summer.
"Crickets," Markus said. "So loud."
Next was the microwave, a home appliance neither Markus nor Marius had in their European homes.
"I never had a microwave before," Markus said. "It's not that hard to use, though, so I learned pretty fast."
Markus, 17, comes from a Norwegian city of more than 500,000 people and Marius from a German city of nearly 600,000.
Living with a host mother on a farm and attending school in a town of fewer than 1,000 people certainly was an adjustment.
Both spoke fluent English when they arrived, though they argued about Marius' thick accent initially being difficult to understand. Markus claimed that it was tough to understand in the beginning, while Marius, naturally, said his English was just fine.
While they were in Kansas, they took driver's education, went canoeing in Arkansas, traveled for spring break to Washington, D.C., and visited another small town, Sabetha, where Diane's mother lives.
Initially, Diane was planning to have one student. She was paired up with Marius. The opportunity to take in Markus then presented itself.
With all of her children moved out, sans Nick, who graduated this year from Tonganoxie High School, Diane had plenty of room and was happy to give Markus and Marius their own rooms.
"It's been a good experience," Diane said. "I wish more people would do it, though."
Diane originally pursued enrolling the boys at Tonganoxie, but that didn't come to fruition. She then enrolled them a few miles west.
"McLouth has been good to them," she said. "I think they liked it because they knew everybody."
School is different in America from both Germany and Norway in that extracurricular activities are not sponsored by the schools, the two students said.
Marius and Markus said they preferred the system in the United States.
"I'm gonna miss the school," Marius said, "the whole feeling of this school spirit and school activities. I'm going to miss it."
Both participated in sports, with Marius competing in football, basketball and baseball and Markus in cross country and baseball. All sports took some time to learn and adjust to, aside from cross country, which Markus called the "universal sport."
"You can't buy a baseball in the regional sports shops," Marius said. "I can't find a baseball field in Germany."
Markus agreed.
"It's hard to find a baseball in Norway," Markus said.
Catching with one's non-dominant hand took some time to get used to as well.
"You catch the ball with your left hand with a big glove," Markus said with a hearty laugh.
They were appreciative to have the opportunity to play new sports, noting that they likely wouldn't have had the opportunity at a larger school.
Both students had to go through a lengthy process to be accepted as foreign exchange students. They had to have all A's and B's in school and apply and interview to be considered. Marius will have three more years of school when he returns to Germany; Markus will have one more year in Norway.
Both like having the ability to drive from here to there in Kansas, but they missed the transit system in Europe.
"You need some subways around here," Markus said, adding that restaurant drink sizes are considerably different, with the medium drinks sold here as big as the large sizes back home.
Markus and Marius will head back home Thursday and will miss some of the local fast food restaurants.
"I'm going to miss Taco Bell so much," Markus said. "We don't have Mexican food over there."
They said one thing they wouldn't miss would be the temperamental weather.
"We skipped spring this year," Markus said. "We went from snow and suddenly summer and then cold again. Extreme weather changes here."
Added Marius "The weather is pretty annoying here."
Aside from the weather, though, they'll also miss the people they've met while attending school in McLouth, and each other.
Markus and Marius say they plan to visit each other after returning to Europe.
"I'm glad Marius was here," Markus said. "I've got a new brother."