Ice shavings become new business venture for family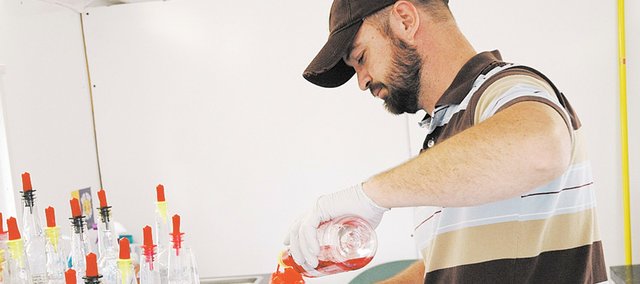 Shaved, flavored ice may be a simple summertime treat, but there aren't many places to find it unless one already happens to be at a professional ballpark.
Bonner Springs residents don't have to go that far this summer, however, to enjoy the warm weather favorite. The Shave Shack recently took over the southeastern corner of the Bonner Price Chopper parking lot at Kansas Avenue and Kansas Highway 7, and now it has extended its hours for those in search of a cold, sugary snack in the summer heat.
Brothers Matt and Dennis Theiss and their wives, Katie and Meghan Theiss, created the mobile, family business for fun as much as profit. They say they weren't necessarily looking to go into business together; the idea sprang from a conversation the sisters-in-law had at a Kansas City Royals game.
"I saw someone with a snow cone, and I said, 'You know, I've always wanted to do that,' and Meghan said 'Me, too,'" Katie said.
So they started looking around online, researching how to start such a business, and soon got the attention of their husbands, who were familiar with shaved ice stands popular with university students in Lawrence and Pittsburg. After about two months of research, they made the decision to try out the business.
The Theisses purchased a trailer and spent the winter and early spring months installing cabinets, plumbing and machinery and painting the exterior with beach scenery. They also did a lot of research about what kind of product they wanted to offer.
"I think there's sometimes a stigma about mobile vendors not being a high quality," Matt said.
The business gets many of its flavoring ingredients and equipment through a company called Southern Snow, but the owners also came up with a few flavors of their own. In addition to the fruity flavors one might expect, they also offer buttered popcorn, a flavor provided through Southern Snow, and pickle juice, which is a Matt Theiss creation. Thus far, they admit, these flavors haven't been the most popular.
One promising note to launching the venture was there wasn't much in the way of competition. There was a stand in Leavenworth, but that has closed, so the closest shaved ice businesses were in Lawrence and Overland Park.
Rather than purchase a lot, the Theisses decided to try to go into partnership with an existing business with a large parking lot.
The Theiss family is originally from Piper, and since Matt and Katie live in Shawnee and Dennis and Meghan live in Kansas City, Kan., it was natural to seek out a location in the K-7 corridor. They considered locations in Shawnee and near The Legends Outlets, but one day when heading to his parents' home in Piper, Matt took note of the prominence that the Bonner Springs Price Chopper offered.
"I looked at the traffic on the highway and thought it would have good visibility," he said.
Bonner also was a community the family was familiar with because Katie Theiss formerly worked at Clark Middle School.
When the owner of the Price Chopper agreed to let the family members locate their mobile business in a corner of his parking lot, they set up shop, opening for the late afternoon or early evenings on Fridays, Saturdays and Sundays beginning April 29. But starting this week, they have switched to a more "full time" schedule, five days a week.
Once their business is established, the family members say they might look into adding more mobile "shacks" at other locations in the metro area.
"We're open to the possibility of growth, but we need to see how this goes first," Katie said.
The Shave Shack is now open from noon to 10 p.m. Wednesday through Saturday and 3 to 8 p.m. on Sundays in the Price Chopper parking lot.