Leavenworth County warning sirens used correctly, official says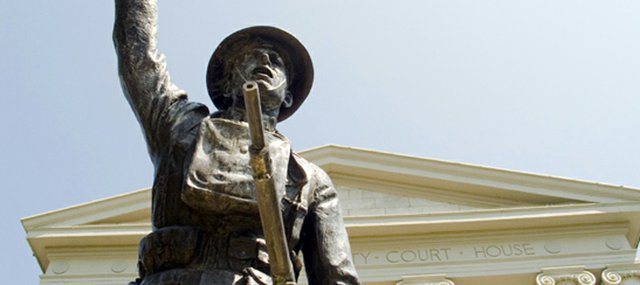 When Leavenworth County was threatened by possible tornadoes on Saturday, May 21, some residents complained that outdoor warning sirens were sounded for too long, county officials said, and others said they weren't sounded long or loud enough.
But the county was correctly following its siren activation guidelines, county emergency management director Chuck Magaha said during a Leavenworth County Commission meeting Monday.
"We get phone calls both ways," Magaha said.
The county commissioners asked Magaha to clarify the county's procedures for sounding the sirens after they received some calls from residents asking why the sirens sounded as if they were going off continuously on the night of May 21, the same night a deadly tornado swept through the Lyon County city of Reading.
The county's emergency management department was following a set of guidelines adopted by governments throughout the Kansas City metropolitan area to eliminate confusion that had been caused previously by different areas' sounding of the sirens at different times, Magaha said.
"Many different agencies were sounding their sirens for different actions," Magaha said after the meeting Monday. "We wanted to be consistent with our message."
The guidelines call for sirens to be sounded when the National Weather Service issues a tornado or severe thunderstorm warning, when a trained spotter reports a tornado or a funnel cloud, or when winds are blowing at 70 miles per hour or greater. In those cases, the sirens should be activated for a period of three to five minutes every 10 to 15 minutes until the threat is over.
Emergency management officials followed those guidelines May 21, Magaha said.
Some residents in the southern portion of the county also complained that sirens were not going off or were not loud enough, he said.
Those complaints were likely the result of two things, he said.
First, Magaha said, officials have the ability to sound the sirens only in certain sections of the county where a threat is imminent. This happened on May 21, he said, when funnel clouds that were west of the county's cities moved north, leaving Tonganoxie, Basehor and the surrounding areas in southern Leavenworth County no longer threatened.
"We had an imminent threat," Magaha said. "Once the threat passed the south end of the county, I ceased to activate those sirens."
Also important to note, he said, is that the sirens are meant to be heard only by people who are outdoors, not in their houses, hence the term "outdoor warning sirens." The purpose of the sirens is to warn people to go inside, where they should use a weather radio or other means to get more information.
Weather radios are available for purchase at Tonganoxie City Hall, Magaha said.