Help wanted: Camp kicks off summer search for improvement
Photo Gallery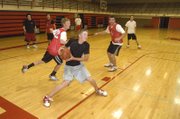 2011 THS boys basketball camp
The Tonganoxie High boys basketball team began its summer with four days of camp from May 31 to June 3 at THS.
As the Tonganoxie High boys basketball team came together in the first week of June for its summer camp, only two things appeared certain: Rising senior Dane Erickson will be the Chieftains' centerpiece and exactly what role everyone else will play is up in the air at this point.
THS coach Shawn Phillips said outside of Erickson, the team's 6-foot-5 center who hit the 30-point mark on more than one occasion last season, there are a lot of question marks regarding the team for the 2011-12 season.
Phillips, entering his fourth year with the program, said the Chieftains will need other players besides the all-league senior pivot to not only score, but also show they can do a number of things well. Of the 18 players at camp, 17 of them will have much more asked of them in the coming year and their coach said the team's four-day camp this past week was the opening stage for what he wants to accomplish this summer.
One of the team's first tasks, Phillips said, will be finding out who is up for the challenge of sharing the spotlight with Erickson.
"Guys can't just be role players," he said. "Somebody's got to step up and be part of the main core of what we're trying to do."
With Erickson, guards Colby Yates, Ben Williams, Brennen Williams, John Lean, and post players Dylan Jacobs, Brady Waldeier and Josh Ghale, Tonganoxie has eight returning players who experienced significant varsity minutes at some point or another during last season. Others competing at camp were senior guard Kody Campbell, juniors Tyler Hall and Keaton Truesdell and seven sophomores — Ben Edmonds, Tyler Ford, Ben Johnson, Isaac Jones, Eric McPherson, Drew Sandburg and Evan Stilgenbauer.
Phillips said he wants to see more out of everyone this summer, as the team plays in a league at Rockhurst University in Kansas City, Mo., travels to Creighton University in Omaha, Neb., for a team camp and plays in some tournaments.
"We have some that have played some minutes," the coach said, "but we're still looking for guys who are gonna be a dominant-type player — that can go out and grab 10 rebounds or dish out six or seven assists or whatever the case may be — and that's definitely something that will take shape throughout the course of the entire summer."
With that in mind, the players know lineups are not set and spots can be won. Erickson said the camp allowed the Chieftains to start getting used to some new looks.
"We've seen a lot of people step up throughout camp," Erickson said. "We're trying some new rotations, having more than one guard take the ball up the court and we're also having posts step up and make more plays than we did last year. It's really encouraging to see that."
The senior center said Jacobs has shown some good post-up moves down low, Yates and Lean have made plays off the dribble and Ben Williams and Ford have shown they are capable of stepping up at point guard.
Brennen Williams agreed that Ben and Ford were frontrunners to handle lead guard responsibilities.
"We really don't have a set point guard because Jeremy Carlisle graduated," Brennen said, "but I thought Tyler Ford stepped up (Friday) and he played it pretty well, and Ben Williams has been playing it pretty well — he's pretty strong with the ball. If we can find a couple shooters on the team, that'll help out."
As camp week progressed, Phillips said, he started to see players make better decisions with the ball, which led to better offense. He said he doesn't know if THS will develop a consistent punch to compliment Erickson or if it will be different players standing out on any given night. Either way, the coach said he needs his players to be productive.
"We're gonna have to have lots of people get involved," Phillips said. "We really don't have a few dominant players. A lot of people are at similar skill levels, so we'll have to see if anybody separates themselves."
At the very least, Tonganoxie improved somewhat from the beginning of camp to the end. A number of times the first few days, Phillips had to get on the players for dribbling too much in the half court.
"There's a difference between making a good play and just trying to force the issue too much," the coach said. "We talked about needing to dribble a little bit less and the ball needs to move more."
By Friday, he said, THS looked a lot better with its ball movement and driving with a purpose.
Additionally, Erickson said, the Chieftains became more comfortable with some offensive sets, which should allow them to keep getting better this summer and make them a more competitive team down the road.
"We've learned a lot of new plays and stuff — the new secondary break that we're working on — and we worked on different ways of getting into our offenses," he said, "so I think it's gonna help make things more smooth."
Brennen said once the younger players got used to some things, the offense picked up.
"We've just got to practice and get better," he said.
Just four days of camp, Phillips said, helped set a foundation for the summer as the Chieftains started playing and reacting rather than overanalyzing every situation.
"Kids are starting to understand the different kinds of concepts that we want to run," the coach said. "With more repetition, hopefully it will become seamless and hopefully be a productive thing."
And with that, maybe Tonganoxie will figure out exactly what kind of team it has to build around Erickson.