O'Hagan's
KVA

all-star team stays loose, gets 'W'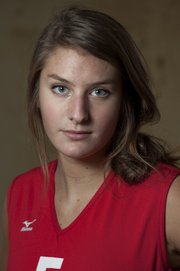 The stage was nearly set Friday at Topeka for the Kansas Volleyball Association All-Star Match when the festivities ran into a minor glitch.
As players and coaches for the Blue and Red teams stood for the national anthem, the recording cut out, leading to some awkward silence.
That's when the Red team, which included Tonganoxie High graduate Molly O'Hagan, decided to start singing "The Star-Spangled Banner" and everyone else in Washburn University's Lee Arena followed suit.
"It was just a cool moment because that just kind of showed the tempo of our team," O'Hagan said, explaining that the Red squad kept things fun and loose.
The approach of the Red players, she added, helped them pull off a comeback victory over the Blue team, 25-20, 18-25, 17-25, 25-23 and 15-12.
O'Hagan said both teams were loaded with talented players but Blue's all-stars took on a more reserved, serious tone and that led to a competitive match with their outgoing Red adversaries.
"Our team was the loud, obnoxious team and I'm pretty sure they were getting tired of us and wanted to kick our butts," O'Hagan said.
It wasn't that the opposing all-stars were unfriendly, she said, but once they were on the court their competitive juices started flowing.
"You wanted to beat that person across from you," O'Hagan said.
The desire to win is what stood out for the Chieftains' representative in the all-star showcase. It had been a while since O'Hagan had played in such a competitive match and she said she was proud that she was able to take an aggressive approach on the floor, especially after having separated her left shoulder in a car accident this past November. She was pleased that her coaches put her on the court, at the very least on defense, in all five games of the match. She responded by playing with determination and making it her personal duty to keep the ball from hitting the ground. O'Hagan's 17 digs were the second-most on the Red team and the third-highest total for a player on either side of the net.
Physical therapy following the injuries she suffered in her car accident, O'Hagan said, helped her feel like normal for the all-star match and actually improved her movement because she now focuses more on balance and being precise in her movement.
"I feel better and stronger than ever," she said.
The only occasions in which O'Hagan ran into some pain were on blocks, when she went straight up instead of bringing her extended arms forward, or if she landed on her left shoulder while going after a dig.
Being invited to play in the KVA All-Star Match, O'Hagan said, was important to her, but winning made it even better.
"Hard work does pay off," she said.
Before Friday, O'Hagan said, she had never played with so many talented players at once. The Tonganoxie product said St. James Academy's Morgan Voorhes stood out on her Red team with her aggressive offense above the net and Blue's Marissa Cox, of Central Heights, and Sara Slater, of Lansing, made it difficult for Red to come out on top.
O'Hagan said everyone there played on a high level and she considered herself privileged to have the chance to get to know the other all-stars, whom she called "amazing athletes," and build relationships with them.
"It was probably one of the most fun experiences I've had plying volleyball in a while," she said.
This fall, O'Hagan will begin her college volleyball career at Cal State University-Bakersfield.