Smith: Chieftains need more than 1 option
Photo Gallery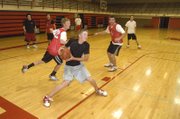 2011 THS boys basketball camp
The Tonganoxie High boys basketball team began its summer with four days of camp from May 31 to June 3 at THS.
If you've been keeping up with the NBA Finals, you know how important it is for a basketball team to have options.
The Miami Heat have three all-stars in LeBron James, Dwyane Wade and Chris Bosh. The Dallas Mavericks have just one, Dirk Nowitzki.
Dirk has been a one-man wrecking crew in the playoffs, sometimes single-handedly leading the Mavs to wins in the final minutes. That worked against teams lacking Miami's firepower. It didn't in Game 3. While Nowitzki scored the final 12 points for Dallas on Sunday night, it wasn't enough for a win.
In that respect, Tonganoxie High boys basketball coach Shawn Phillips doesn't want his team to be the Kaw Valley League's version of the Mavericks.
The Chieftains wrapped up their four-day summer camp this past week and it was clear that, at this point, THS is a one-man show. Dane Erickson is Tonganoxie's Nowitzki. The senior-to-be is his team's go-to guy and his play impacts the end result more than anybody else on the floor.
The good news for the Chieftains is that it doesn't have to stay this way. Questions abound right now, but the season is six months away. There is time — and plenty of it — for others to take their game to a higher level.
THS will stay busy this summer with a competitive schedule that includes a Tuesday night summer league in Kansas City, Mo., and a trip to Creighton University's team camp.
So even though Phillips doesn't know right now who will be the No. 2 and No. 3 options, and so on, for Tonganoxie, there will be opportunities for players to become more than a gang of role players.
For THS, four days of hoops camping this past week served as an introduction to what lies ahead, but nobody put a stranglehold on one of the four starting spots surrounding the team's all-KVL center.
Perhaps getting out of their comfort zones will force candidates to emerge. As Phillips pointed out, the new-look Chieftains — without the services of 2011 graduates Jeremy Carlisle, Dylan Scates and Austin Vickers — have yet to face anybody but themselves.
"It will look a whole lot different once we start going through league and tournaments and stuff like that," Phillips said.
The team has felt a lot different for Erickson, as he adjusts to having different guys around him.
"It's definitely a learning experience for me, as far as learning to play with people that I haven't necessarily played with since middle school, really," he said.
This summer will certainly be an adjustment period for all involved. Tonganoxie isn't going to transform into the KVL equivalent of the Heat, but it needs some guys to become the Shawn Marion, Jason Terry and Jason Kidd to Erickson's Nowitzki and, unlike the Mavs role players in Game 3, make an impact.
That shouldn't be too much to ask. The question is: Who will step up and keep the Chieftains from becoming a predictable and beatable one-trick pony?