Back to basics
Fundamentals a big part of
THS

girls basketball camp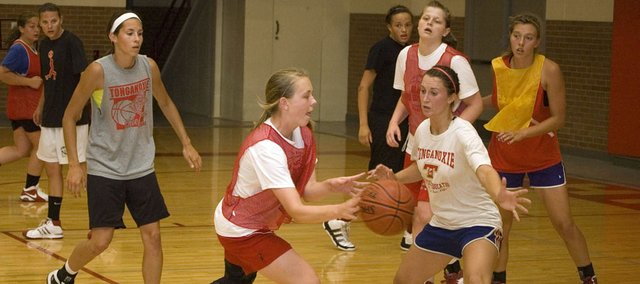 Photo Gallery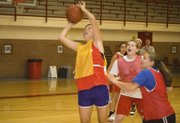 2011 THS girls basketbal camp
Tonganoxie High's girls basketball team had four days of summer camp from June 6-9 at THS.
HOLROYD INJURED
Tonganoxie High senior guard Amanda Holroyd learned this past week that she has a torn ACL and meniscus in her right knee. She sustained the injury while playing basketball on June 5 and is set to have surgery later this month. She is expected to rehab for about six months before being cleared to return.
There is no rule anywhere that says summer camp is supposed to be entertaining.
For about three hours a day for four mornings this past week, Tonganoxie High's girls basketball team went through drills, reviewed plays and scrimmaged — all in the name of team development — at its annual camp. And as invested as the Chieftains were in getting better, it wasn't all fun and games.
Most of the time, returning varsity players Tavia Brown, Hannah Kemp, Haley Smith, Emma Stilgenbauer, Madee Walker and Jenny Whitledge were fully engaged — hustling, communicating and focusing. But with five rising sophomores (Alissa Donnelly, Emily Soetaert, Katelyn Waldeier, Kara Banks and Leah Miller) and 10 freshmen at camp lacking varsity experience, things weren't always fascinating for the more seasoned THS girls.
In fact, Tonganoxie coach Randy Kraft admitted, at times camp was just plain boring out of necessity.
"When you have that big of a discrepancy in abilities and knowledge of the game — and I've always told them — it is (boring) for the older kids," Kraft said. "It's not like they don't need to work on those things but they've heard it and heard it and heard it."
Basics, the coach added, are covered thoroughly at camp to make sure everyone stays fresh on all the most critical skills.
What is the most boring part of camp?
"The teaching stuff," Kemp said, "when he goes over stuff, especially the basics, like shooting and rebounding and plays."
Though those portions of camp seemed to drag on, the junior point guard said the older players understand why they have to review them.
"It's stuff that they (the younger players) are gonna have to know," Kemp said.
Brown listed fundamentals and ball handling as the least exciting parts of camp.
"We've been doing it since we were little and it really gets old," she said. "It's been old years ago."
Scrimmaging and going over game situations aren't exactly new to the Chieftains either, but Brown said the players preferred those parts of camp.
"It's faster paced and we battle each other, make each other better," she said.
Still, Kraft knows those unpopular aspects of camp are just as important and he reminded the players that was the case.
"Basketball is about repetition," he said. "And I don't care what you know. I tell them NBA players are out there going through the same passing drills, same shooting drills, same form shooting as you guys are. Everyday they do it. Yeah, it might get a little bit boring, but you know, winning's not boring."
Brown said she thinks this team could win a lot of games, because it has players who gained experience as underclassmen.
"Since we were younger, everyone that was amazing already graduated and our good group is still here," she said.
Kraft said the team's returning players (including Amanda Holroyd, who couldn't participate in camp after tearing the ACL and meniscus in her right knee before camp started) have been through the rigors of a season and they are all capable of playing.
"The last couple years, we've played some freshmen on the varsity," the coach said, referring to Smith, Kemp, Whitledge and Stilgenbauer, "and I think hopefully this year it's paying off for us."
With their experience, Kemp said the older players were able to help out the freshmen and sophomores and coach them through situations, which was a recurring scenario during camp week.
"There was a lot of it," Kemp said. "We've been here, we've done that stuff, so we understand what it's like."
Kraft and assistant coach Lindsey Graf often encouraged their core varsity players to assist their less experienced counterparts and Kraft said that served as an important learning tool by forcing the returning varsity players to assess on-the-court situations and respond to them.
"It does benefit the younger players, but it's probably more of a benefit to (the older players)," he said, "because doing something is one thing — teaching people how to do it totally changes your outlook on how you do things. It's a learning experience for them as well."
Lessons and drills might not seem exciting in the summer, but Kraft hopes they will make for a more entertaining winter..