No family discount for pay-to-ride transportation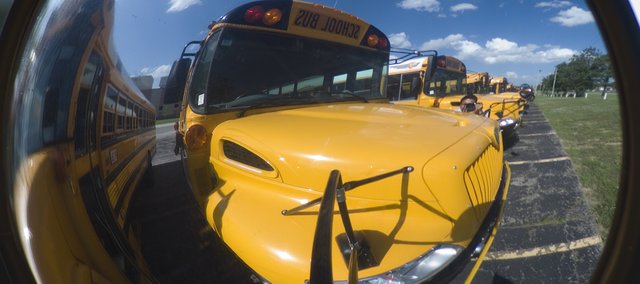 District patrons who utilize the pay-to-ride transportation system in USD 464 will not have the option of a family rate if they have several children utilizing the service.
The board discussed the measure, which it approved at the May board meeting, further at Monday's meeting.
Patron Karlye Weatherford, who lives in the North Star subdivision, asked that the board reconsider. With three children, her family would pay $170 per student per semester with the new fees. That's $1,020 for the school year. She said she wasn't opposed to a reasonable fee, but the anticipated fees "seems a bit excessive," she said.
She asked that the board adopt a family rate that would put a cap on the number of students in a household who would be charged for the service.
Hopkins made a motion to cap the pay-to-ride at the rate of 2 1/2 students, but it died for lack of a second. Hayden said that though he understood the strain of additional costs for families, there are no other caps on other fees in the district.
The fee also increased by $20 per student. Pay-to-ride also has a waiting list of patrons wishing to utilize the service, which is open to students who live within 2 ½ miles of each student's respective school. Students living outside that distance are bused at no charge.
— For more from the board meeting, go to tonganoxiemirror.com.