Tonganoxie
USD

464 school board begins search for interim superintendent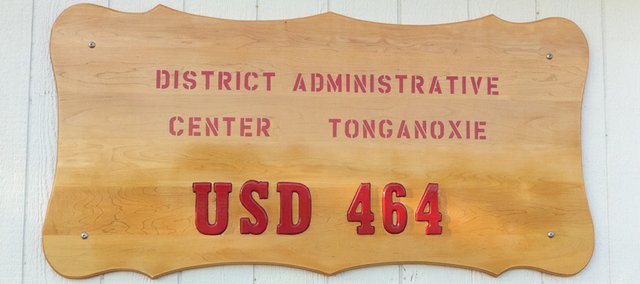 Tonganoxie USD 464 is in search of an interim superintendent.
The Tonganoxie school board approved the search at Monday's regular board meeting days after Superintendent Kyle Hayden announced he would be taking an administrative position with Lawrence Public Schools.
The board is hiring the Kansas Association of School Boards on an as-needed basis to search for an interim superintendent. KASB official Mike Pomarico spoke to the board at the meeting and told them of options in searching for a superintendent. He said the board could start a search for a permanent superintendent or hire an interim superintendent, either out of district or internally, to lead the district until a permanent hire is made.
With superintendent's contracts starting July 1 each year and a search lasting at least six to seven weeks, Pomarico said it would be tough to hire a permanent administrator. To fill the position of interim superintendent, a retired superintendent or someone from within the district could be hired. And there is the option of eventually dropping the interim title.
The board voted, 5-2, to approve the search for an interim superintendent, with Mildred McMillon and Dan Hopkins voting against the measure.
McMillon said the district had "capable internal people" within the district who could fill the role of interim superintendent. She said it also would be a cost-saving move, as no search would be needed.
Pomarico said a search could run anywhere from $3,400 to $15,000. That is based on enrollment, with the largest schools in the state being at the high end of that pay spectrum.
Hopkins voted against the measure because of personnel who could move into the role, but he declined to say whether personnel were currently district employees.
"I think we have qualified people ready to assume the position of superintendent," Hopkins said, "that don't need to be in the position of interim superintendent."
Pomarico gave examples of current interim superintendents, including one who has been interim superintendent at seven different districts in seven years. Another, Brian Harris with the Republic County school district in Belleville, is entering his second year as interim superintendent. With hiring a retired superintendent, the district also would be responsible for paying a Kansas Public Employees Retirement System surcharge, which is calculated at 20 percent of the superintendent's salary. For instance, if the superintendent's salary were $100,000, the district would be responsible for another $20,000 for the KPERS surcharge. It's the same rate for teachers who have opted to retire from the district with the intent to be rehired for the same position.
Hayden's contract ends June 30. His salary for the current year is $106,250. He also receives compensation toward his family insurance, as well as a $75-per-month cell phone allowance.
The board plans to have a special meeting on the topic at a date to be determined.