Uncle Sam statue carved as feel-good gesture for Joplin tornado victims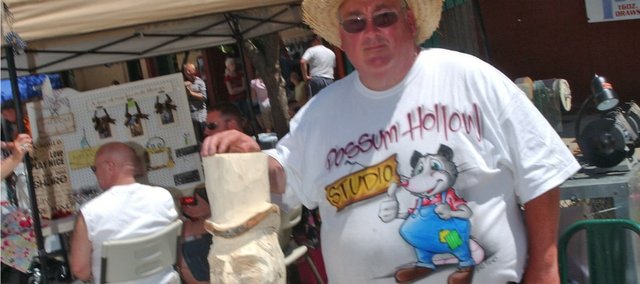 Even in his limited time in Joplin after the May 22 tornado, Dennis Bixby saw the suffering the storm wrought on the southeast Missouri city of 50,000.
This past week, Bixby was busy working to help change the mood of one couple who lost most of what they had in storm.
In the week after the tornado, Bixby traveled to Joplin as a volunteer with International Disaster Emergency Services to sharpen chainsaw chains. One of the cleanup crews Bixby worked with returned with a limb of soft maple from the home of a couple he knows only as Jim and Linda.
The couple took refuge from the tornado in the interior of their home. There, they survived the storm that by latest count took 153 lives in the southeast Missouri city. But their house was destroyed and all their belongings mixed in the debris field that Joplin had become.
"They lost everything but the clothes off their back in the tornado," Bixby said. "This (the limb) was the only thing that existed in their backyard that belonged to them."
The crew, who knew of Bixby's woodcarving abilities, delivered him the limb with the instructions "see what you can do with this."
Wanting to personalize his work to be meaningful for the couple, Bixby set out to learn more about them.
"He is an elder in the church that was my host," Bixby said. "The wife had decorated their home with red, white and blue items. Their son is getting ready to deploy to Afghanistan.
"With that, I started carving Uncle Sam."
The work in progress was on display Saturday at Bixby's Tonganoxie Days booth. The basic Uncle Sam shape is blocked out, with some details of the hat, face, vest and coat starting to emerge. The ears and feet will be added before Bixby paints the statue in Uncle Sam's traditional red, white and blue attire.
His goal is to present the completed carving to Jim and Linda later this week on a return trip to Joplin to do more sharpening, Bixby said. It is his hope the gesture gives the couple an emotional lift as they start to rebuild.
"They have no idea I'm going back down there with this," Bixby said. "They and the whole town, really, just needs a feel-good story."