Sandstone striving to overcome economy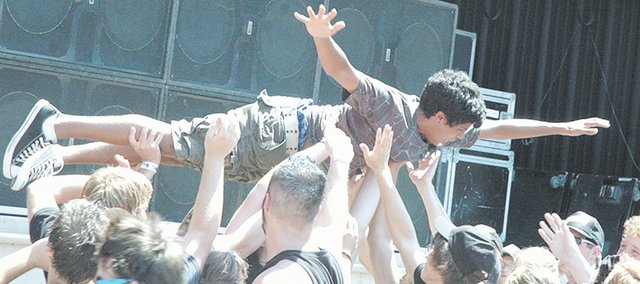 Bonner Springs — Last year was a "bloodbath" for music venues across the country.
That's how Chris Fritz describes the dismal concert ticket sales seen in 2010. He says the national average of sales was a whopping 45 to 50 percent below what was seen in 2009.
"So the whole industry got murdered last year," the president of New West Presentations, a Prairie Village-based management company and the leaseholder of Capitol Federal Park at Sandstone, said. The land the venue sits on is owned by the Unified Government of Wyandotte County and Kansas City, Kan.
Sandstone felt the sting, as well, Fritz said, but not as badly as some other venues, bringing in about 25 percent less ticket sales than were hoped for. Still, even though the concert season won't kick off for another few weeks, Fritz says conditions at the outdoor amphitheater are already improving.

"Oh, it was a bloodbath, it was like a slaughterhouse," Fritz said of last year. "But we survived it, we licked our wounds and this year, already, everything looks a whole lot better."
Sandstone's summer concert season will kick off July 6 with the Vans Warped Tour — an annual homage to punk rock that tours the country and has traditionally made a stop at Sandstone in the past. Other bands and musicians taking the stage this summer will include 311 and Sublime with Rome (July 8); Rob Zombie (July 16); Kings of Leon and Band of Horses (Aug. 29); and Blink 182 and My Chemical Romance (Sept. 9). Rolling Stones, AC/DC, Bob Seger and Journey tribute bands will also come together for the Rock N' Roll Dream Concert on July 9.
Tickets are now on sale for all of these shows, and Fritz said ticket sales for the Warped Tour are ahead of what they were last year at this time. He also noted that, as of Monday, tickets sold for Rob Zombie totaled about 7,000 and those for 311 and Sublime were nearing the 10,000 mark.
An increase in ticket sales doesn't mean Sandstone has zero challenges to overcome, however, Fritz said. The venue is already feeling the competition from nearby LIVESTRONG Sporting Park, which just opened last week in the Village West area of Kansas City, Kan., and this year will be the site of Buzz Beach Ball, a music festival sponsored by 96.5 The Buzz. Prior to this year, Sandstone had been a frequent home of the annual festival.
"It's a brand new place. It's a beautiful place to do (Beach Ball)," Fritz said of why Beach Ball organizers decided to move the festival to LIVESTRONG. "They saw an opportunity, so they're taking it."
Another challenge lies in the venue's ongoing green efforts. After New West Presentations took over the lease in 2008 from Sandstone's former leaseholder Live Nation, big plans were made to make the venue as green as possible. Some of those plans have been implemented in the form of biodegradable corn cups, recycled toilet paper, energy conservation and environmentally-friendly lighting and paint. But Fritz said some of the bigger, higher-dollar plans, like bringing in wind turbines and building a water-reclaiming system, had been stymied indefinitely by the economic recession. Those plans would cost millions of dollars, Fritz said.

"Unfortunately, (those plans are) on hold and we can't even extend any energy because it would just be a waste of time right now," he said. "Because we just can't find the money or the partners to do it, because the money doesn't exist."

Fritz said right now the focus is just on bringing in shows people want to see, while still keeping ticket and concession prices low enough that Sandstone will be able to hold its own among other music venues in the area. And with the majority of concerts being under $40 this summer, Fritz said he is confident these goals will be met — especially given the loyal following Sandstone has acquired over the years.
"You've got limited inventory and you've got a lot of venues, but I think we have a unique situation," Fritz said. "People love Sandstone. They enjoy going to concerts there. We're making it very affordable for them; making it very pleasant. It's easy to park, we try to keep service charges down, we try to keep our concession prices in line and we're making a modest profit and just trying to, you know, reinvest in the place very year … It's very cool. We enjoy doing it."
To see a full concert calendar and ticket information, go to sandstoneamp.com.