Adjusting on the fly
Tonganoxie football players forced to adapt during strange week of camp
Photo Gallery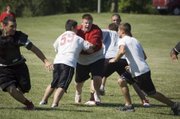 2011 THS football camp
For five days, June 13-17, the Tonganoxie High football team had its annual summer camp.
In the Tonganoxie High football team's version of a perfect world, the sun would always shine, everybody's schedules would be compatible, no one would get sick or injured and the roster would always be filled with experienced skill players.
There was no utopia, though, for the Chieftains at their five-day summer camp June 13-17.
Most of the players who carried the ball or caught passes on last season's team are gone. Of the players expected to be part of the 2011 THS roster, nine missed all or part of camp for reasons varying from pneumonia to schedule conflicts.
The week ended Friday with rain forcing the team inside to the main gymnasium. Then coaches found out volleyball would be going on there. So it was off to the west campus gym, where an alarm blared for part of the morning, making it difficult for players and coaches to hear and communicate.
It was a strange week. But Tonganoxie coach Mark Elston said that wasn't necessarily a bad thing. He pointed to last season, when numerous injuries forced the team to adjust on the fly and adapt to unexpected scenarios.
"All those distractions do help you prepare for the season, because that's what game night's like," Elston said. "Things aren't always going to go according to plan, so you have to be able to adapt."
Elston even had a glass-half-full opinion on having players miss parts or all of camp.
"That's actually kind of good," he said. "When guys aren't here, you learn to get prepared for the season."
The coach had specific goals in mind for the Chieftains that were at camp. Footwork and establishing a rhythm for who would play on particular plays were two of the team's primary camp objectives, Elston said. He explained that some guys were better suited to be successful in certain positions, so the coaching staff wanted to evaluate where a player's strengths could best be utilized.
"We've just got to mix and match our personnel with what we can do," the coach said.
A few players, Elston said, outperformed expectations at camp. The coach said rising sophomore Cole Holloway looked "terrific on defense" in the secondary, sophomore Shane Levy stepped up as a fullback and junior lineman Ty Barton asserted himself as a leader.
The coach insisted no one on the team could consider himself a lock as a starter — "It's still an everyday battle for positions," he said — but a number of other players proved they have skills necessary to be in the mix for those coveted spots.
Joe Wolf, Garret Elston and Tyler Ford, the coach said, all have strengths at quarterback, Zeke Kissinger has improved on the offensive line, senior safety Derek Lingo has become a leader on defense and Matt Soetaert could be a "big addition" to THS even though his football knowledge is limited at this point.
Specific units showed overall improvement at camp, Coach Elston added. He said route running and receiving drills went well and the defense, which had played some seven-on-seven against a few other schools this summer, began picking up on more things.
"We've improved a mile as far as communication on defense and knowing our coverage lanes and all of that stuff," he said. "We've still got eight miles to go, but we've improved from where we were two weeks ago."
Lingo said he focused on getting younger players lined up and in position on defense, so when the ball was snapped everyone would be covered and there wouldn't be any open holes.
"A big thing this week has been communication, especially on defense," Lingo said.
Players noticed other areas of improvement, too. Barton said the offensive line got a lot more comfortable.
"We're getting everything right now," he said Friday. "From Monday, we didn't know anything that we were doing."
With five major contributors at skill positions having graduated this past spring, the camp had a youthful feel. Amos White, a senior tight end, linebacker and kicker for Tonganoxie, said there is some promise with the younger players.
"I think it'll be nice to have young kids on the team," White said. "They will be flying around, knockin' heads."
One of the sophomore defensive players who impressed his head coach this week was linebacker Wyatt Weeks. He was making the transition from outside linebacker, which he played as a freshman, to middle linebacker at camp.
"It's kind of weird because I'm used to stepping forward and then falling out to the flats," he said of the move, which he was getting more used to with time.
Elston said he expects numerous sophomores to be a part of the action this fall and he knows there will be a learning curve.
"They're gonna get it right about 50 percent of the time, 25 percent of the time they're gonna be guessing and the other 25 percent of the time there's the potential for a mistake," the coach said of sophomores on the gridiron. "We can live with that. We know that's going to take place. We have to be selective in how much we can do with as many young guys as we have out there."
It won't be perfect. Then again, what is?