Williams retiring after 37 years with
THS

track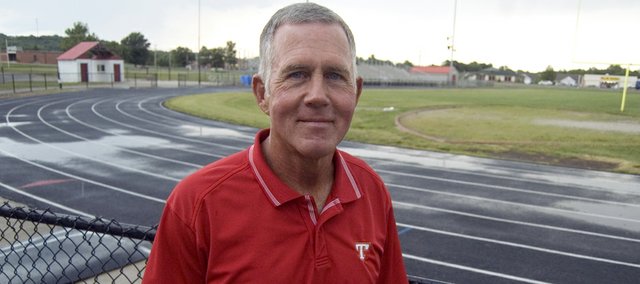 An era has ended in Tonganoxie.
For the past 39 years, Phil Williams coached high school track. During all but two of those seasons, he did so at Tonganoxie High, where he became the Chieftains' head boys track coach in 1995.
When track season begins next spring for THS, it will mark the first time since 1975 that Williams won't be on the staff. After 17 seasons of running the boys team, he has decided to retire.
A year ago, Williams said, he contemplated not returning for the 2011 season. After a number of parties encouraged him to give it one more year, Williams knew the same decision would still be difficult 12 months later.
"It's always kind of tough when you're with a group of kids that you really enjoy, which I had this year," the longtime THS coach said, noting the boys have potential to do well again next season. "That was kind of tough, but everything else felt right."
For Williams, who said spring is a very busy time for him, a number of factors led to his retirement from coaching track.
Once upon a time, when he was getting his start as a track coach in 1973 at Belle Plaine, Williams was 22 years old and full of energy. Now 61, he no longer has the same fire he possessed back then or the drive he had when he took over for Phil Lobb as THS boys track coach.
"It was getting harder to motivate myself to come to practice and be excited about it," Williams said. "I just don't have the energy that I had even five years ago, let alone 20 years ago."
His 37th and final year as a THS track coach, Williams added, went "very well" and had nothing to do with him retiring.
What motivated the move more than anything, he said, was his schedule — "There's so many things I'd like to be doing in the springtime."
Though he retired as a high school math teacher in 2004, Williams found plenty of ways to stay busy. Along with the 20 to 25 hours a week Williams spends working for Peruvian Connection in Tonganoxie, where he does maintenance, works on the grounds and covers other odds and ends, he said he likes to keep up his home and a place he and his wife, Jeanie, have at Lake Dabanawa. With track responsibilities keeping him busy in the spring, he said Jeanie had to mow the yard sometimes. Plus, they have grandchildren, and Williams would have to leave the house for track functions while they were visiting sometimes.
"That was hard to do," he said.
The decision to retire from track, though, didn't lead Williams to quit his role as head THS cross country coach, too. He said time constraints aren't the same for him in the fall and he plans to take a "one year at a time" approach with that sport. He could coach the THS cross country teams anywhere from one to three more years, he predicted.
Though Williams will still be around the high school — as cross country coach, announcer at home football and basketball games and aide at home track meets — his presence on the track team will be missed. THS girls track coach Chris Weller, who has worked with high school track athletes at THS since 1990, said he would love for Williams to continue with the track program, but he understands his decision after all the time he has put in.
At the end of each track practice, Weller said all the coaches gather to shoot the breeze and talk about each aspect of the team, and it won't be the same without Williams next spring.
"It'll be really strange the first few weeks, I'd imagine," Weller said of not having Williams around. "The man has probably forgotten more about track than I'll ever know."
Weller said he will miss having Williams and his knowledge readily available.
"His mind's always thinking track," Weller said. "There's lots of people involved, but he's the mind behind the operation."
Future THS athletes will miss out on that source, too. A Tonganoxie graduate who ran on the Chieftains' 2009 Class 4A state championship 4x400 relay team as a senior, David Powell called Williams an "incredible" coach and person.
"He cares greatly about his athletes and demands the most out of them on the track," Powell said. "He always had a special talent of bringing the most unusual group of people together and molding them into a team that can compete with and beat the best."
According to THS athletics director Brandon Parker, Williams has been an ambassador for Tonganoxie track.
"Pretty much, our track program is known because of Phil Williams," Parker said, noting he and sprints coach Bill Shaw have been mainstays.
Parker said everyone in the track community knows Williams for his classy, friendly approach.
"He pretty much has put out a great name for Tonganoxie in general and track and field specifically," he said.
Williams' love for track will keep him keenly interested in the Chieftains, even after his retirement.
"I'll be keeping an eye on the track team just to see how they do and going to some meets," he said.
Reflecting on the years and years of events and athletes, there were too many important memories for Williams to pinpoint a favorite. But he said individual state championships were at or near the top of that list — "You always remember those things," he said.
When next spring rolls around, Williams will miss being involved with the team and building more track memories. However, that doesn't mean he will regret his decision to retire.
"It's just going to be nice to have more time," Williams said. "The time commitment is the one thing I won't miss."