Chainsaw carver gets eyeful of destruction on Joplin trip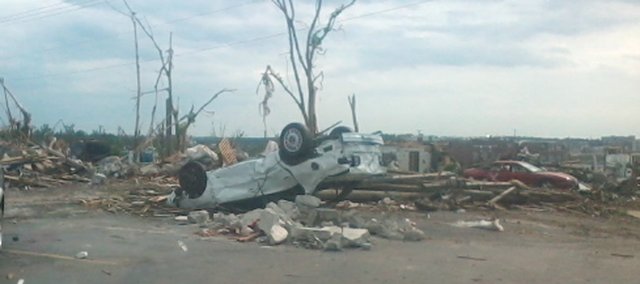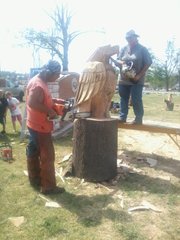 Russ Ehart Sr. had difficulty staying on task during his recent trip to Joplin, Mo.
Ehart visited the southwest Missouri city of 50,000 June 11 through 15 at the request of Joplin school officials who knew of the McLouth man's chainsaw sculpting reputation. The school officials wanted Ehart to create carvings from the 50-year-old pin oak trees the May 22 tornado toppled at the Joplin High School campus.
Working separately and together, Ehart and fellow chainsaw carver Sylvia Cook produced a series of eagle carvings. But Ehart had frequent interruptions from cleanup volunteers who saw his awning decorated with chainsaw company logos and thought it was a sharpening station like the one set up down the block the week before.
"The guy who had me come down said, 'You can't be sharpening, we need you to carve,'" Ehart said. "But how could you turn them down?
"I can knock (chainsaw chains) them out in five minutes if they are on the saw."
Despite the interruptions and a generous spirit that had Ehart loan out one of his chainsaws for about four hours to a volunteer, he and Cook did get several carvings done or completed to the point they can be finished during a return trip this week.
He witnessed the aftermath of the 2000 Tonganoxie tornado and was in Oklahoma City two days after an F-5 funnel killed 48 in May 1999, but Ehart said the scope of the Joplin destruction was still a shock.
"There were three vortex tornadoes wrapped up inside of it," he said. "The winds were so strong nothing's left standing. Just as far as you can see, there's nothing but debris.
"They've been working down there for three weeks, and there's places that don't look like they've been touched."
The schoolyard, like most of Joplin in the deadly storm's 7-mile-long and mile-wide path, still needed to be cleared of limbs, rubble and debris when Ehart left last week. But, he said, the cleanup effort boosted by thousands of volunteers was making progress.
"I talked to people from Massachusetts, Minnesota, Ohio — just everywhere really. I talked to a lot of Alabamans," he said. "I asked the waitress where we were eating if there was anybody there from Joplin. She said she didn't see anybody from Joplin — all the customers were from out of town and the restaurant was full of customers"
Crews and volunteers given a 5-gallon bucket, gloves, tarp, shovel and "big ol' rake" are working systematically from lot to lot. They first remove the downed trees and limbs, sometimes with the aid of large logging machinery, so that the debris can be taken to a former coal pit across the state line in Kansas, Ehart said. Women on ATVs prowl the streets to offer volunteers water, he said.
The debris is a mix of trees and building materials and contents of the 8,000 residences the tornado destroyed, Ehart.
"We found a shoe still tied," he said. "That bothers you. Probably somebody just slipped it off, but you don't think of that."
Local school officials are still figuring out where students will go to school next year. Joplin High School was heavily damaged and the vocation technical education center on the campus was destroyed.
"It was a large brick building," Ehart said. "The tornado just picked it up and slammed it back down. There's nothing left but a 7-foot pile of bricks. That's how they determined it was an F-5 tornado, how badly that building was damaged."
As always with tornadoes, there are oddities. The grass on the schoolyard where they stayed hadn't been mowed since the storm but remained only inches tall, Ehart said.
"What is up with that?" he asked. "They lost so many trees. I think the ones that are left are going to die. They don't have any bark on them."
Ehart said he and Cook were hoping to have a carve-a-thon with other chainsaw artists at Joplin for this fall, once things returned to something closer to normalcy. He would attempt to get a Missouri PBS station to carry the event to help with fundraising..
But, that was still thousands of volunteer hours away, Ehart said.
"I would recommend anybody with a day or two go down there and volunteer," he said. "It's a good thing, and they need it.
"What a mess."