Family helps transform Trinity Lutheran Church for Bible school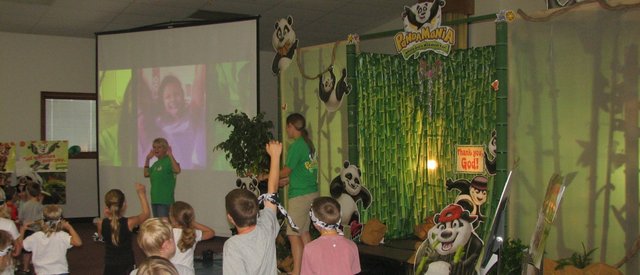 When the children entered the sanctuary at Trinity Lutheran Church earlier this month, they could tell it was something different than another day at church.
They saw pandas swinging from vines in a bamboo forest, water cascading down big brown rocks into a creek in front of the stage and colorful round paper lanterns hanging from a red pagoda in the center of the room.
The scenery set the tone for the songs, dances, games and crafts the children would experience during vacation Bible school at Trinity Lutheran, which is on Evans Road southwest of Basehor in rural Leavenworth County.
The bamboo-jungle scene was there because of about a month's worth of work by one husband-and-wife duo and, occasionally, their two children, who constructed it in their garage, mostly using recycled materials.
This is the third year that Debbie and Steve Farrow, who live off Kansas Highway 32 near Linwood, have built the set used for the church's VBS. The couple this year spent about 80 hours together in their garage putting it together on evenings and weekends, Steve said, Debbie designing and decorating and Steve doing the heavy construction work. This year, he used lumber to construct the 24-foot-long, 8-foot-tall frame for the scenery on the stage.
"She does the delicate work," Steve said. "I do the not-so-delicate."
The delicate work includes browsing ideas sent by a group that produces the church's VBS curriculum and then brainstorming ways to use a shoestring budget to bring a panda-populated jungle or, last year, a sailing ship, to life.
That usually involves asking furniture and hardware stores for cardboard boxes and tubes, borrowing items from church members and perhaps saving up some toilet paper rolls and grocery bags.
Closer inspection of the scenery used this month reveals that the bamboo shoots are the shadows of cardboard tubes with twisted tissue paper sticking out in the shape of leaves, projected onto a drop cloth. The waterfall is a sheet of sparkly blue fabric, running down a refrigerator box and between grocery bags crumpled to appear like rocks.
Debbie said the activity gives her an opportunity she doesn't normally get.
"I like doing creative things," she said. "I'm an accountant, and that's a very structured job. So this gives me a chance to have kind of a creative outlet."
The project also gives Debbie and Steve a chance to spend some time together with their children, a 7-year old and a 4-year-old, who also join in to help on occasion.
"We get to spend time together," Debbie said. "We get to build stuff. The kids get excited about it."
After constructing pieces of the scenery in their garage, the Farrows put the whole package together the weekend before VBS begins, with the help of other church volunteers.
The Farrows' annual family project helps set the fun atmosphere that allows children to enjoy the Bible school experience, VBS director Shari Kuttler said.
"The kids get so excited," Kuttler said. "They walk in and they are pumped."
About 80 to 90 children attended the morning and evening VBS sessions at the church from June 6-10, Rev. Jim Jobst said. The church has about 260 members from Basehor, Tonganoxie, Bonner Springs and other areas nearby.
After the conclusion of Trinity Lutheran's VBS program, the Farrows have lent their scenery out to other Kansas City-area churches for use, and they gave last year's boat set to a church in Higginsville, Mo., to keep.
Debbie and Steve both said the value of their project became clear each year when they saw the children come in on the first day of Bible school.
"It gives them the 'Wow' factor when they come in," Steve said.