Spinning away troubles in Tonganoxie
Spinner finds ancient craft provides good therapy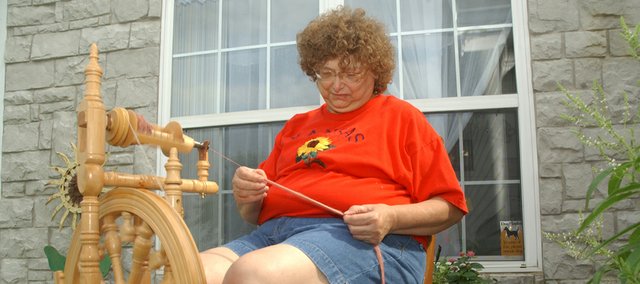 As Pam Jones treads on the treadle, her spinning wheel comes to life with wheels, bobbin and an intricately carved U-shaped piece of wood spinning with the busy precision of a Swiss watch.
All that activity and the task of feeding raw wool through a spindle is soothing for Jones, who has battled depression over the years.
"It's just a very relaxing thing to do," she said. "When I really get upset, I'd say, 'I'm going to spin my mind off of that.' It doesn't really take your mind away, but it does calm you down.
"Spinning is better than therapy."
Spin class
• Pam Jones will demonstrate how yarn was spun in early times and how one can spin yarn today during a presentation from 2-3 p.m. Saturday at the Tonganoxie Public Library community room.
• She also will discuss techniques for spinning sheep's wool and various other fibers.
• The library is at Third and Bury streets.
Perhaps it's the mechanical aspect of the spinning wheel, but it also seems to enchant men who see her demonstrations at the annual Kansas City Renaissance Festival in Bonner Springs and other living history venues, Jones said.
"At the Renaissance fair, I'm a little off the beaten path," she said. "I can just spin away and they, particularly men, will just watch, trying to figure out what I'm doing. It's kind of curious."
Those who approach can experience another soothing side of the ancient craft.
"Because of the softness of the fiber, people like to put their hands on it," Jones said. "Not the spun yarn, but the raw fiber. It's like a worry stone."
Of course, the purpose of spinning is to turn the raw source materials into useful yarn. Coordinating hands and feet at the spinning wheel to produce cords of different character is an acquired skill.
"I taught myself how to do it," Jones said. "I just kept on trying and trying until I got it. It's kind of like riding a bicycle, because when you spin you have to get a rhythm going as you're spinning on the wheel."
For Jones, that's only half the job. She then knits the yarn into objects she sells at the different craft shows and living history demonstrations she attends.
"I kind of do small projects," she said. "Right now, I'm doing scarves. I also do turtleneck scarves. They are kind of a round shape or scarf with no end. You can put it around your neck, and you don't have to worry about it blowing off."
Before her recent move into Tonganoxie, Jones gathered some of her source material from her own llamas, the first one purchased to produce wool and a second one to keep the first animal from getting lonely. She now buys her wool, sometimes blended with renewable bamboo fiber, off the Internet or from a Lawrence store.
Jones will take a break from her living history presentations to give a demonstration on knitting from 2 to 3 p.m. Saturday at the Tonganoxie Public Library.
"I'm really quite interested in teaching children," she said. "My mom helped me get into knitting, and she helped me learn to spin fiber, also.
"One of the things I'm hoping to get going is to teach basic knitting in the fall at the library."