Tonganoxie City Council agenda, June 28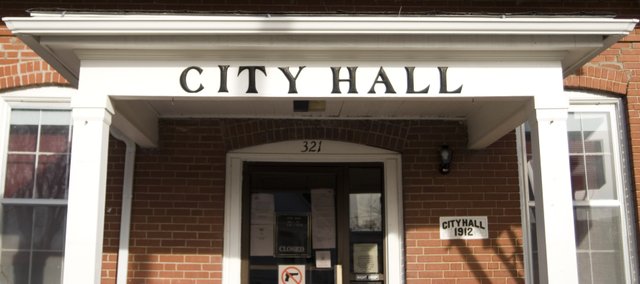 CITY OF TONGANOXIE
321 S. DELAWARE * 913-845-2620
June 27, 2011
7:00 Regular Meeting
Honorable Jason Ward, Mayor
Council Members
Chris Donnelly. James Truesdell, Bill Peak, Andy Gilner, Dennis Bixby
Open Meeting – 7:00 p.m.
Consent Agenda
a) Approval of Minutes –
Regular Meeting dated June 13, 2011
b) Consider Approval of Bills - Approve Pay Ordinance A-1660
Open Agenda
"Members of the public are welcome to use this time to comment about any matter relating to City business. The comments that are discussed under Open Agenda may or may not be acted upon by the Council during this meeting. Please wait to be recognized by the Mayor, then state your name and address and all comments are to be directed to the chair."
Old Business
a) Discuss Financing for acquiring a facility to house a new Police Facility and a Fire Department Annex (table item).
d) Discuss Chapter 8 Health and Welfare (Nuisance) and consider adopting Ordinance amending the Tonganoxie City Code (table item).
New Business
a) Transportation Enhancement Program Grant Award – Chieftain Trail Phase II
b) Contract for Design Engineering Services – Chieftain Trail Phase II
c) City Administrator Agenda
d) City Attorney Agenda


e) Mayor Agenda
f) Council President Agenda
g) City Council Agenda
Adjourn
Information & Communications (No Action Required)

a) Letter of Thanks from Chamber of Commerce
b) BG Consultants, Inc. June 2011 Billing summary for May 2011 time
c) 2011 Municipal Seminar – 2011 Legislative Session
d) 2011 Municipal Seminar – Attorney General Opinions