Tonganoxie Community Band provides rare opportunity to perform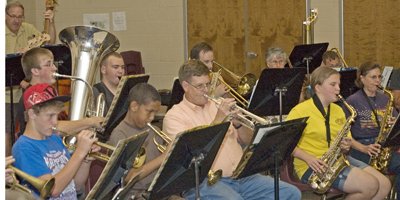 Once he put down his horns when he left Longmont Community College, Ray Stockman never thought he would play in a band again.
Stockman played in a jazz band at Longmont and was in the Raytown High School band under an energetic band instructor, where he played the baritone, some tuba and the cornet his parents gave him in middle school.
"It was a good activity and very enjoyable," he said of high school band. "It also fit well with a lot of different studies.
"It was a very competitive band I was involved in with an energetic instructor, kind of like Mr. Van."
That would be Charles Van Middlesworth, the Tonganoxie instrumental music instructor who afforded Stockman an opportunity to once again be part of a band. He will be one of about 45 community band members who will perform their 2011 nearly hourlong concert at 7 p.m. Tuesday at the stage in VFW Park. The evening will start at 6:30 p.m. with a 20- to 30-minute performance by the instructors at Dave Wiggins' percussion camp slated for July in Eudora, he said.
Stockman said he got involved in the band four years ago when his oldest child, Kelsey Stockman, was between her freshman and sophomore years. His oldest son, Steven, who will be a sophomore next year, is now a percussionist with the THS band.
He plays to connect with the community, support the band as a band parent and to provide an example to his children that being part of high school band enriches their lives in high school and after, Stockman said.
"One thing my parents said when I was starting in band is that I was welcome to try it, but it was not going to be a one-year thing and that I had to give it the time and commitment to do it right," he said. "It's all about developing a well-rounded person."
Those motivations aside, Stockman confessed he played in the band because "I love music," he said.
"It's fun to perform. I enjoy the practices almost as much as the performances. You get to step outside of your normal job and responsibilities and go back to times when things were simpler and you were in a high school band."
He also enjoys the mix of members, from sitting next to a University of St. Mary music professor to looking up and seeing his son, Stockman said.
The love of music and desire to be part of a band draws members from the current high school band, past members, Tonganoxie residents and those from other communities, Van Middlesworth said. There are limited opportunities for former high school band members to play once again, he said.
"Lawrence has a community band, but it's for professionals," he said. "Bonner Springs has a community band and there's something avail able in Olathe.
"But really, there aren't many opportunities."
The USM vocal music professor is one of the more noteworthy community band regulars with an Iowa man who couples a trip to Kansas to work at a church camp with his band participation and his band instructor from Bishop Ward High School, Van Middllesworth said.
The band the audience will hear Tuesday has had four 90-minute practices, Van Middlesworth said.
"I'll tell you, it's a different band after four practices," he said. "There's so much change and development with all the people, patrons and students who are there.
What is exciting is seeing all those people coming from all different music education backgrounds grow together."
His challenge is the find the music that his younger high school students can play while challenging the community band's more accomplished members, Van Middlesworth said. He thinks he has accomplished that goal with this year's concert, titled "Across the World and Back," he said.
It will open with works on American themes, segue to a piece of crossing the ocean, include several works on European themes, take a return trip across the ocean for several distinctly American pieces before concluding with "Stars and Stripes Forever," Van Middlesworth said.
"I try to find a good mix of difficulty so everybody can enjoy it — the audience and the performers," he said. "We have easy, medium and advanced pieces with one piece in there we try to build to together with a different level of difficulty.
"I definitely push them."