Constructive camping
THS

volleyball players try to set tone for upcoming season at camp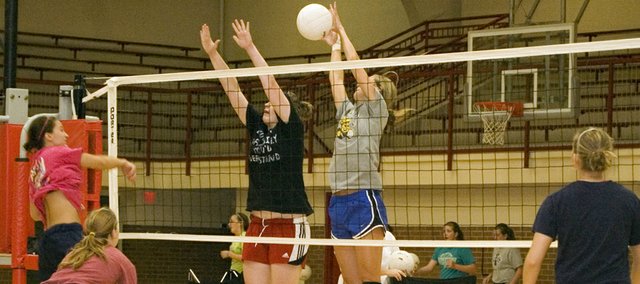 Photo Gallery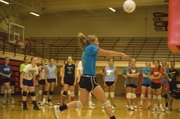 2011 THS volleyball camp
The Tonganoxie High volleyball team had four straight days of three-hour camp sessions from June 20-23 at THS.
When the Tonganoxie High volleyball season ended this past fall with the Chieftains getting upset at sub-state on their home floor, the players who would be back for 2011 weren't exactly sure how they would recover.
Rising senior Brooklyn Kerbaugh said the postseason loss left the players feeling "shaky" about what would happen next.
This past week, from June 20-23, Tonganoxie had its annual summer camp, and THS co-coaches Brandon and Tiffany Parker liked the way the returning players responded. Kerbaugh said the Parkers told the Chieftains they were proud of how they came out and competed.
"It was probably the best camp I've been to in all four years of high school," Kerbaugh said.
Having four returning seniors on the floor at camp, Brandon Parker said, made it one of the best camps THS has had from start to finish.
"When you become a senior, it just kind of clicks," he said, referring to Kerbaugh, Megan Hummelgaard, Sagan Scates and Haley Smith.
The four days of camp didn't reveal any specific things the Chieftains needed to improve upon, Parker said, but from what he has seen out of them at camp and in summer-league play, chemistry has improved. He said that's a result of players taking ownership in the program.
Between the aforementioned seniors, Kailan Kuzmic (who couldn't be at the camp), and juniors Hannah Kemp, Madee Walker and Jenny Whitledge, Tonganoxie has eight varsity players returning this season. Players and coaches alike thought that led to a smooth week, and a good flow in the team's play.
Hummelgaard, the Chieftains' senior libero, said the upperclassmen tried to help out the sophomores and freshmen whenever they could.
"A lot of us were really excited to be out here," Hummelgaard said. "We're just ready to get after it, ready for a fun season."
Scates, who along with Kemp is one of the team's two setters, said the Chieftains came to camp desiring to get things accomplished.
"Just coming in from last season, we had a good mindset on getting the job done," Scates said, "and having a good time and not waiting around for other people to tell us what to do."
Parker said much was expected out of the team's seniors. They held each other accountable and made sure everyone at camp was getting better.
"We ask a lot of them," the co-coach said of the THS seniors. "We give them a lot of responsibility all season and it starts when we get together in the summer."
At the end of camp on Thursday, Parker told the team that volleyball isn't a one-player sport as he showed off the camp T-shirts, which the seniors helped design. The slogan on the shirts read "Serve Others" and coming up with that theme was just one example of the seniors setting the tone.
"That's what seniors should be doing, is leading the program," Parker said, "because technically it's their program at that point."
The co-coach said he saw a lot of positive things on the floor from the Chieftains, too. Parker thought the players attacked the ball pretty well and did a good job getting the ball up on defense.
He said the team's defensive effectiveness starts with its senior libero Hummelgaard and is helped out by the ability of players such as Whitledge and Smith, who are capable of making key digs in the back row. Parker noted Kerbaugh can patrol the back as well, though she is not asked to do so as often.
Tonganoxie's setters also impressed Parker — "They looked a heck of a lot more consistent," he said, "which is good."
Scates, the team's senior setter, said she expected this year's team to take time to adapt to the loss of 2010 seniors Molly O'Hagan and Danielle Miller. However, she was glad to see the Chieftains get a jump on that at camp.
"The flow of our game was really a lot better than I expected it to be," Scates said. "People stepped up to the plate in the hitting game."
Parker was happy to see the players take a disciplined approach at camp while at the same time allowing themselves to enjoy the game.
"It was just kind of a loose, stress-free atmosphere where the kids were out playing hard, but they were enjoying competing," he said. "That was enjoyable to watch."
Parker said the Chieftains showed their ability to bounce back if something didn't go right, which is exactly what they hope to do this coming fall.