For Karnazes, there's joy in the pain
Ultra runner says 'If it hurts, you're doing it right'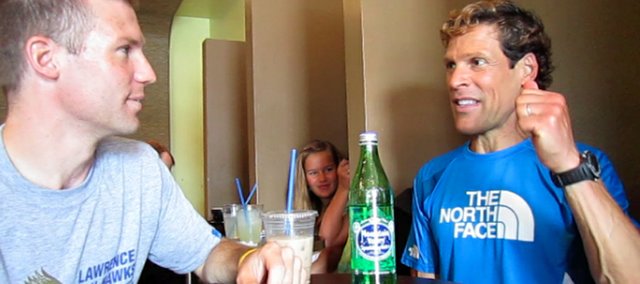 Kansas City, Mo. — Rocky Balboa famously uttered the phrase "No pain!" in an effort to block out adversity while training during the classic boxing series.
Dean Karnazes, on the other hand, says "Bring it on!"
The ultra runner — one of the United States' premier endurance athletes — doesn't just embrace pain. He relishes in it.
He has to in order to pull off some of his greatest feats, whether it's running 50 marathons in 50 days in 50 states; finishing the Western States 100-Mile Endurance Run in less than 24 hours 11 times; or winning the Badwater Ultramarathon — a 135-mile race through Death Valley that regularly sees temperatures reach 120 degrees.
Karnazes seizes every opportunity to compete on some of the world's most gnarly terrain, no matter how painful it may be.
"I think there's magic in misery," he says. "When I'm standing there at the start of a race, I just say, 'There's going to be pain; I know it; don't deny it — and bring it.' It's a challenge.
"I think it's a mistake to walk in and think, 'This is a race that's not going to hurt.'"
There's a difference between bad pain and good pain, of course. Karnazes says he thinks most runners understand that difference — the bad meaning you're injuring yourself; the good meaning you're pushing your body through a barrier and reaching a new level of performance.
Karnazes has been fortunate to avoid the former most of the time. It's the latter type of pain that he loves so much — and he wants others to love it, too.
When people tell him they don't want to run because it hurts, Karnazes' response is simple: "If it hurts, you're doing it right."
Karnazes has spent much of the past decade watching his celebrity star rise during his transition from non-runner to ultra stud. In interviews and in books he has addressed his popularity.
Fame never was his goal, but it came with the territory as an elite athlete and best-selling author. For Karnazes, the attention brought with it a new sort of pain: media attention and public scrutiny.
It became tougher to go out in public uninterrupted, and Karnazes soon embraced all-night running as his outlet. As darkness fell, he'd bolt out the door, find a trail and disappear into the darkness. Dozens of miles later, he'd return home as the sun rose.
It's taken a few years, but Karnazes no longer views his celebrity status as painful. Instead — just like his running pain — he is embracing it. He's seizing on the opportunity and using his notoriety to reach out to the public and encourage them to get off the couch, lace up their sneakers and dart out the door for a few miles.
It's a lifestyle change that might hurt a little, but Karnazes is certain others will find — as he did — that it's a worthwhile decision.
"I think in the western world we've thought that if we're comfortable we'd be happy. We've equated comfort to happiness," he says. "We're so comfortable we're miserable, and there's no struggle.
"We're obese as a nation. We get into our air conditioned car and go to our air conditioned building and get in the elevator. There's no struggle, no pain."
There it is again: pain.
Here's where Karnazes drives his point home.
"I think people are realizing that you're never more alive than when you're struggling and in pain," he says, "and I think everybody knows that."
To embrace pain is to embrace life, so to speak.
Karnazes — a The North Face-sponsored athlete — recently completed a 75-day run across the United States that benefited Action for Healthy Kids. Since then, he's been traveling the country to play host to Fun Runs while also talking to communities about healthy living and signing copies of his new book "Run! 26.2 Stories of Blisters and Bliss." He was in Kansas City, Mo., on Friday and Saturday as part of that tour. He'll return Aug. 27-28 for The North Face Endurance Challenge, a race series that includes 5K, 10K, half marathon, marathon relay, marathon and 50K distances.
Karnazes hopes people will challenge themselves as he has. That doesn't necessarily mean going out and running 350 miles through the Australian backcountry or doing a multi-stage race in Antarctica.
Perhaps you did two miles at the Fun Run. Maybe challenge yourself to finish a 5K or 10K. If you're a more experienced runner, tackle one of the longer distances.
Sure, it might hurt a little bit — or maybe a lot — but Karnazes doesn't want that to be an excuse to stay home. Instead, it's the very reason to keep going, break through another barrier and attack a new challenge.
As Karnazes says: "I think you just learn that if you get over the pain, you emerge with less pain."