Leavenworth native reaches national finals of Army Reserve Best Warrior contest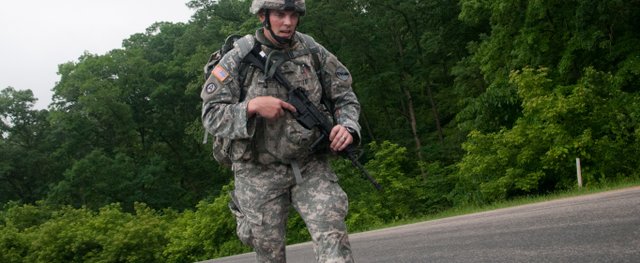 Staff Sgt. Max Rees wandered through a Wisconsin forest at 4 a.m. last week, no other people in sight.
He was glad to be there.
Rees was searching for six wooden posts with the help of a map, compass and Army-issued GPS device as part of a six-hour navigation exercise that started at 3:15 a.m. The odd hours were par for the course for someone in the middle of the Army Reserve's Best Warrior Competition, a five-day competition during which events run from before dawn until after sunset.
Rees, 31, who was born and raised in Leavenworth, guessed that he'd gotten three to four hours of sleep each night. The competition ran from Sunday to Friday.
"It's not designed to be easy," Rees said Thursday in a phone interview.
But adventures like this are a big reason Rees has spent 13 years as a citizen-soldier, first in the Army National Guard and then in the Army Reserve, he said. His service has taken him around the world to Kuwait, the Czech Republic, Germany and Korea, he said, as well as to a dozen states around the United States.
Rees, who attended Kansas University, joined the National Guard in 1997, completing basic training before his senior year at Leavenworth High School.
That was the last time he had performed many of the exercises and drills that are part of the Best Warrior Competition, he said, until he began training for the event in November after his superiors recommended he give it a try.
"In a way, it's re-training," Rees said. "A lot of this I haven't done in 10-plus years, and some of it I've never done before."
But he performed well enough to win preliminary competitions at Camp Parks in Dublin, Calif., and Fort Jackson, S.C., after which he advanced to last week's Army Reserve Best Warrior finals at Fort McCoy, Wisc. He was one of 43 soldiers and non-commissioned officers to make the finals, out of 206,000 Reserve members around the country.
"I've learned more in three competitions than I could have in months of actually going to Army school and training," Rees said.
Though the events largely cover basic skills for soldiers — assembly and disassembly of weapons, physical fitness, navigation — the competition as a whole is far from routine, Rees said.
"I'm, physically and mentally, pretty drained at the end of each day," Rees said. And he's usually up by about 4 a.m. to begin the next day's events, he said.
Those events range from written tests on Army knowledge to marksmanship to feats of physical endurance. For the foot march event, he said, participants strap on a full uniform, body armor, a rucksack and a weapon that add up to 80 pounds. Then they march about six miles up and down hills, at a minimum pace of 15 minutes per mile.
At last week's finals, they marched through the thick, humid air left after some rainfall, he said.
"You never felt like you were cooling off," Rees said.
Rees' strategy is to perform "slightly above average" in each event, he said, though he finished first in the combative event last week. That event involves hand-to-hand combat in which no striking is allowed, resulting in a technique that resembles Brazilian Jiu-Jitsu, he said.
"It's kind of like MMA fighting, without the punching," Rees said.
After results were announced at the competition's conclusion, Rees learned he did not take the top spot among non-commissioned officers at the competition. A victory would have earned him a berth in the Army-wide Best Warrior contest, in October in Fort Lee, Va., along with one soldier from the Reserve competition. But Rees said last week he already was thrilled to be one of the handful of Reserve members to have made it to the finals.
Rees requires a week or two of recovery time after one of these grueling competitions, he said, before he can return to his civilian job as a wildland firefighter in Costa Mesa, Calif., where he lives now with his wife.
Though he feels drained at the end, he says, he wouldn't trade in this life for anything else, especially a 9-to-5 "desk job." He had one of those once, he said, and it wasn't for him.
"It's definitely very rewarding," Rees said of his Army career. "I've had some amazing experiences with travel to other countries. In ways, it's kind of changed my life."