Father, son catch whoppers 47 years to day after dad's catch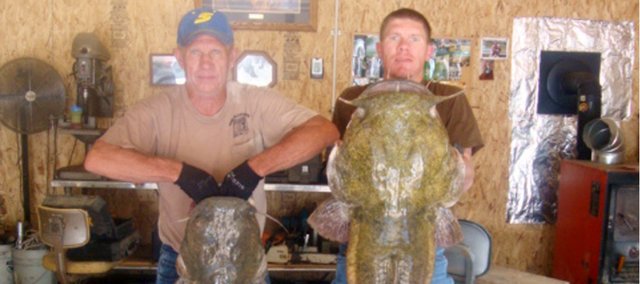 Nick Edwards and his father, Lanny Edwards, had one fish story after another June 6.
The two were fishing along Stranger Creek in rural Tonganoxie using bank lines with perch as bait when they caught a couple big fish — a 70-pound flathead catfish and a 40-pound flathead catfish.
It just so happens the big catches came 47 years to the day after Lanny, who grew up in Herington, caught a 61-pounder and 62-pounder, both also flathead catfish, on the Smoky Hill River near Chapman when he was in high school.
The secret to catching these big fish?
"Lots of luck, and know what you're doing," Lanny said.
Nick said he inquired at Cabela's in Kansas City, Kan., about holding the fish in the store's aquarium, but room wasn't currently available. Nick, who lives in Tonganoxie, and Lanny, of Basehor, released the big fish back into the water.
Nick said his previous largest fish was 55 pounds.
"I knew it was pretty good size," Nick said. "I didn't know that he had hit the 70-mark."