Longtime Lawrence educator selected for Tonganoxie interim superintendent post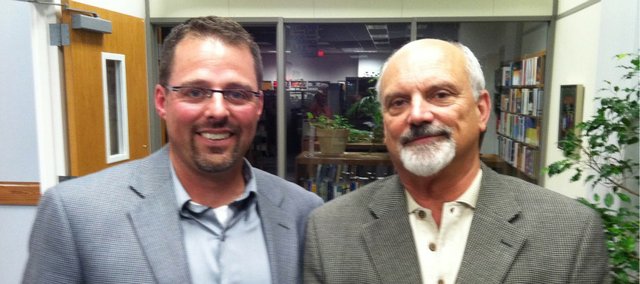 A former Lawrence school superintendent is heading to Tonganoxie USD 464 to replace its superintendent, who recently accepted an administrative position with Lawrence USD 497.
The Tonganoxie school board hired longtime Lawrence educator and administrator Randy Weseman by a 7-0 vote during a special meeting Monday. The board met in executive session for 10 minutes before approving Weseman's hire as interim superintendent.
"This is a situation where I've had a full career and am retired, and Tonganoxie is in a situation where they need an interim superintendent to give them time to fill the position long-term," Weseman said Monday night.
Weseman, who worked entirely in the Lawrence school district for the duration of his educational career before retiring, said that his accepting the position was to be contingent upon having good chemistry with the Tonganoxie school board. Weseman said that, after meeting with the board during his interview, it was a "pretty easy decision" once he was offered the position.
"I think it's going to be a pretty good marriage for a year," Weseman said.
He will receive a one-year salary of $90,000 and a $75 per month cell phone stipend. He's also been offered insurance benefits through the district. Because Weseman is retired, USD 464 must pay a 20 percent penalty to KPERS, which is another $18,000.
He will begin his employment at USD 464 on Friday.
Originally from the western Kansas community of Dighton, Weseman served in the Air Force and then graduated from Kansas University. He student-taught in Lawrence before being hired as a high school teacher in 1976. He later taught at the junior high level and was a building administrator both as assistant principal and principal at the junior high level before eventually being named superintendent in 2000. He retired in 2009.
Following retirement, Weseman has done some consulting for the Kansas Association of School Boards, which gave his name to the Tonganoxie district as a potential interim superintendent.
Asked about returning to education administration during the current climate that includes continued state funding cuts, Weseman said he knows what it's like to work with those constraints. Though he said districts are facing challenging times, he said he's had "a lot of experience with budgets that were under stress with lack of state funding. It's nothing new to me."
Weseman, 62, replaces USD 464 Superintendent Kyle Hayden, who recently accepted an administrative position with Lawrence Public Schools. Hayden's last day is Thursday in Tonganoxie; Weseman begins Friday.
"We made it by the July 1 deadline. We're very happy," said Diane Truesdell, Tonganoxie school board president. "We were looking for someone with experience and we feel he has lots of enthusiasm and we're looking forward to working with him."
Weseman oversaw the seventh largest school district in the state while at Lawrence Public Schools. Enrollment there this past school year was about 10,600, compared to 1,900 in Tonganoxie.
"I'm certainly aware of how small towns work and the issues they face," Weseman said. "They all want the best for their kids and their community and that's how I plan to serve them."
The board's vote was unanimous with board members Leana Leslie and Kris Grinter voting remotely. Truesdell contacted them with her cell phone and put each board member on speaker phone so that they could vote with the rest of the board.