Himpels get rare chance to share state experiences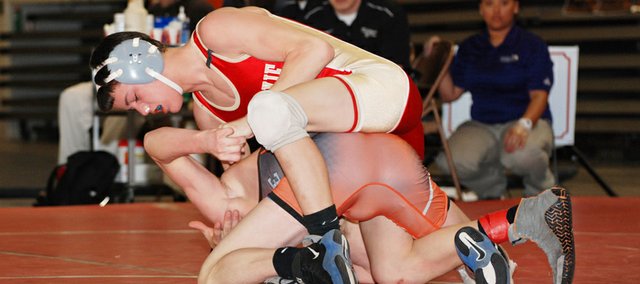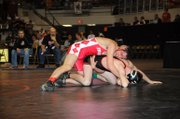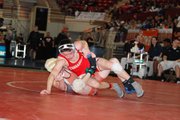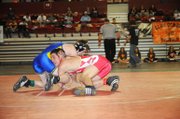 Brothers tend to share plenty of experiences while growing up together, but it's not every day that two siblings can say they both competed at the state wrestling tournament.
That's exactly how Tonganoxie High wrestlers Caleb and Clayton Himpel spent this past weekend, though. The two were the Chieftains' only representatives at Salina for the Class 4A state championships.
With Clayton, a 112-pound freshman, and Caleb, a 130-pound junior, both making their state tournament debuts, it made for a pretty special weekend, especially when Clayton was able to capture a fourth-place medal.
Even though Caleb went 1-2 and was eliminated in the second round of the consolation bracket, he could appreciate the significance of going to state with his brother.
"It was a lot of fun," he said.
Clayton agreed, and said finishing fourth place as a freshman was an important milestone in his career, because he had hoped to win a medal in his first trip to state.
"That really meant a lot," Clayton said of going 3-2 and taking fourth place. "That was my goal coming in, to be in the top six."
Clayton began his weekend by winning his first two matches on Friday — with a pin of Mason Kerns, Smoky Valley, in the first round and a 5-1 victory against Zeb Edson, Towanda-Circle, in the second round. That advanced the THS freshman to the state semifinals, where he lost, 10-2, to Dustin Reed of Colby, the eventual state champion.
"I knew I'd have a tough match," Clayton said of his semifinal loss. "I went out there and tried my best, but the score didn't end up going my way."
Tonganoxie coach Jeremy Goebel said Clayton had faced Reed previously at a summer camp and the Colby sophomore just capitalized on some opportunities.
"We definitely had him on his heels when we were on top and there were a couple of times when we almost turned him," Goebel said.
No one came closer to defeating Reed, who won his championship match by a score of 17-2, at Salina than Clayton did and that made the Chieftains freshman proud.
"I thought that was a pretty big accomplishment for me," he said.
The loss put Clayton in the consolation semifinals, where he picked up a 7-3 victory against Prairie View's Kaleb Konitzer before falling, 4-2, in a tight third-place match against Junior Morgan of Abilene, whom Clayton described as a "tough kid."
Goebel said placing fourth at state was a huge point for Clayton in terms of his progression, noting the 112-pounder became the first THS freshman to win a state wrestling medal.
"It's a great honor and great accomplishment for him to get a medal," the coach said, adding Clayton now has a rare opportunity to become a four-time state-placer.
Caleb goes 1-2
From the moment Caleb first arrived at the Bicentennial Center in Salina, he said he was anxious about his state debut.
On Thursday night, when he and Clayton practiced at the state site, Caleb said he could feel himself breathing more heavily than normal because he felt nervous and he said nerves likely contributed to a slow start in his first-round match, a 12-0 loss to Parsons' Thatcher Murdock.
Looking back on the loss, Caleb thought his approach was too timid at first.
Goebel said between the large, unfamiliar venue and level of competition, wrestling at state is different than a typical weekend event.
"The stage of the state tournament can sometimes be an eye-opening experience," the coach said.
The brackets are full, Caleb said, of incredibly physical and technical wrestlers.
"It was pretty tough," he said of the field. "There's good kids and there's kids that are amazing at wrestling."
After his opening-round setback, Caleb said his nerves went away and from that point on he was able to wrestle as he would in any other match.
In fact, he bounced back with a 9-6 victory against Clay Center's Brett Rickley in his first consolation match, and when he was eliminated from medal contention in the second round of the consolation bracket, it was a narrow defeat — a 5-4 loss to Lane Lassiter of Holton.
Grappling brothers
The weekend results may have been different for the Himpel brothers, but their coach said the two shared at least one thing in common — a competitive nature.
"They both wanted to go out there and compete at the very highest level," Goebel said.
Clayton said he and Caleb had a good time together throughout the weekend — "It was pretty cool," he said.
The two even got a rare chance to help out each other.
"We actually warmed up together for the first time ever," Clayton said. "We didn't really fight that much or anything. We got along, cheered each other on during our matches."
Caleb had thought rooming together might have led to a disagreement or two, but said that wasn't the case. Really, only one thing kept them apart in their trip to state. Because Caleb was eliminated before Clayton was done competing, he didn't have to keep his weight as long.
"The only time when we might have had a problem was when I got to eat," Caleb said. "I had to go away from him so I wasn't rubbing it in his face."
THS finished 30th in the team standings at state with 15 points. Andale won the 4A team title with 144.5 points.
Class 4A state tournament
Friday and Saturday at Salina
Top 10 teams: 1. Andale, 144.5; 2. Clay Center, 108; 3. Abilene, 102.5; 4. St. James Academy, 91; 5. Bonner Springs, 86.5; 6. Chanute, 76; 7. Colby, 73; 8. Hugoton, 63; 9. Spring Hill, 59; 10. De Soto, 57.
THS results
Clayton Himpel — 112 pounds
1st round: Mason Kerns, Smoky Valley, W pin
2nd round: Zeb Edson, Towanda-Cricle, W 5-1
Semifinals: Dustin Reed, Colby, L 10-2
Consolation semis: Kaleb Konitzer, Prairie View, W 7-3
Third-place: Junior Morgan, Abilene, L 4-2
Caleb Himpel — 130 pounds
1st round: Thatcher Murdock, Parsons, L 12-0
Consolation 1st round: Brett Rickley, Clay Center, W 9-6
Consolation 2nd round: Lane Lassiter, Holton, L 5-4