Sumner ends Tonganoxie girls' season
Photo Gallery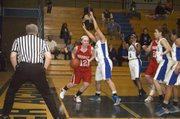 THS girls eliminated in 1st round
The Tonganoxie High girls basketball team's season ended Tuesday in the first round of sub-state with a 50-40 loss at Sumner Academy, in Kansas City, Kan.
Kansas City, Kan. — Clusters of turnovers early on in the Tonganoxie High girls basketball team's Tuesday sub-state game at Sumner Academy foreshadowed what was to come in a season-ending 50-40 loss.
The Sabres forced turnovers on the Chieftains' first five possessions to jump out to an early eight-point lead.
In the fourth quarter, just when it appeared THS (9-12) might be poised for one final push, turnovers again led to Sumner layups and the Sabres stretched a six-point advantage to 15 with an 11-2 run that sent them to a Class 4A sub-state semifinal.
Tonganoxie sophomore Jenny Whitledge drove in for a basket and drew a foul with 5:50 remaining. She converted the three-point play at the line to cut Sumner's lead to 36-30, but the Chieftains only made one field goal (another Whitledge layup) in the next five and a half minutes as the Sabres (15-6) pulled away.
Junior THS guard Amanda Holroyd hit two 3-pointers in the final 20 seconds, but the desperation bombs couldn't alter the outcome.
Ninth-year Tonganoxie coach Randy Kraft said his players seemed nervous at times, and their state combined with Sumner's athleticism led to 22 turnovers.
"We weren't taking many chances and that makes you slow, and of course they're a more veteran team and they got out of the box pretty quick," Kraft said.
Sumner forced an up-and-down game in the first quarter, when the Chieftains had nine of their turnovers, and Kraft said the 8-0 hole in the first two minutes of the game didn't help things.
"We spotted them a little bit early," the coach said, "we had like four straight trips without a shot."
THS finally put some points on the board when Whitledge, who scored a team-high 14 points, hit a jumper with 5:55 left in the first. After that, Danielle Miller, Tayler Miles and Emma Stilgenbauer scored, too, and Tonganoxie trailed 16-9 entering the second quarter.
The Chieftains started taking care of the basketball in the second quarter and their defense held Sumner to just four points. However, THS only managed five second-quarter points, with Whitledge on the bench with two fouls for the final 6:10 of the first half.
Sumner couldn't pull away from Tonganoxie in the third, when Whitledge scored six points and Haley Smith and Miles both made baskets, and the Sabres were only up five entering the fourth quarter.
Miller scored on a post-up on the Chieftains' first possession of the fourth, but that five-point deficit was the closest the road team would get.
Score by quarters
THS 9 5 10 16 — 40
SA 16 4 9 21 — 50
Tonganoxie scoring
Amanda Holroyd 2-9 0-0 6, Jenny Whitledge 5-9 4-7 14, Tavia Brown 0-0 0-0 0, Hannah Kemp 0-12 0-0 0, Danielle Miller 2-2 4-6 8, Tayler Miles 2-3 2-4 6, Haley Smith 1-4 0-0 2, Madee Walker 0-1 0-0 0, Emma Stilgenbauer 2-6 0-0 4.