Basehor-Linwood school board candidate Jeff Tindell hopes to plan for district's future growth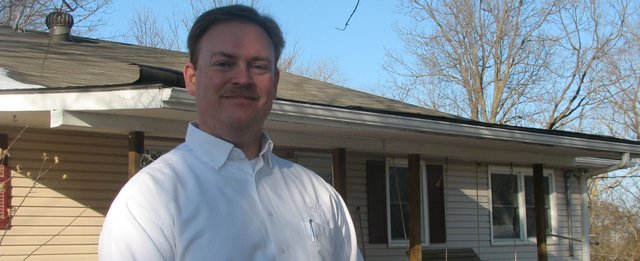 Editor's note: The Sentinel kicks off its coverage of the April 5 local elections today by introducing you to the three candidates vying for the at-large seat on the Basehor-Linwood school board. Jim Peters, Jeff Tindell and Lori Van Fleet are running to take the seat of Doug Bittel, who is not running for re-election after serving two four-year terms in the at-large seat.
Go here for the Sentinel's story on Jim Peters, and go here for the story on Lori Van Fleet.
Jeff Tindell's house on Fairmount Road lies just south of the Basehor-Linwood School District's northern boundary line, and he says that's no coincidence.
When he and his wife wanted to choose a small-town environment for their future children to grow up in, they decided that the Basehor area had the environment — and the school district — for which they were looking.
"When we were looking at houses, we would not have moved 100 yards north," Tindell said. "It just wasn't going to be an option."
Now that his two daughters have grown up in that school district, deepening his family's roots in the community, Tindell has decided to run for the at-large seat on the Basehor-Linwood school board in the April 5 election.
"I have two healthy, happy, well-adjusted young ladies that are in the school district, so I've got a vested interest in making sure the experience is as good for them as it can possibly be," Tindell said.
His candidacy for the school board is not his first effort to get involved in the district where his daughters have been educated, he said. He and his wife both participated in parent-teacher organizations, and he has served on school site councils as well.
"I've had a little bit of hands-on with inner workings of the education process, but far removed from the school board," Tindell said. "This will be new ground for me. I'm kind of excited about it."
Tindell has received insight into educational matters through his job with a technology company that serves nonprofit and government organizations, as well, he said.
"I get to see things that I don't think a lot of folks get to see on a regular basis," he said.
Working with school districts gave him a view of how they handle their financial decisions, he said, and he'd been impressed with what he'd seen from Basehor-Linwood, including the district's resourcefulness in receiving a grant from FEMA to construct the new Health and Wellness Center at Basehor-Linwood High School.
He has also been impressed with the district's academic achievements and the performance of staff and administrators during his daughters' years moving through school, he said.
"The interaction with the administration has always been phenomenal," Tindell said.
He said that, as a school board member, he would be a strong supporter of superintendent David Howard's work and vision for the district.
"I want to make sure that we're supporting the directions that he's taking the district," Tindell said, "because I think he's going in the right direction."
Though he is impressed with the school district's current state, Tindell said, he would like to make sure it plans for future growth as well. He said he wanted to provide for future enrollment increases that will result from the growing community surrounding the schools, perhaps even laying the groundwork for a new high school at some point.
"If you haven't done the planning ahead of time, you're going to be in big trouble," Tindell said.
With that growth should also come an increased array of educational options available to students, he said, in such areas as foreign language.
"Basehor, this little school out west, is going to have to do those kinds of things to be competitive with the Olathes of the world, the Blue Valleys of the world," he said.
Those sorts of improvements, he said, could be a calling card for the district as future families decide where to move, just as his did years ago.
"What I do will be the legacy you inherit," Tindell said.