Defending champs end Tonganoxie's season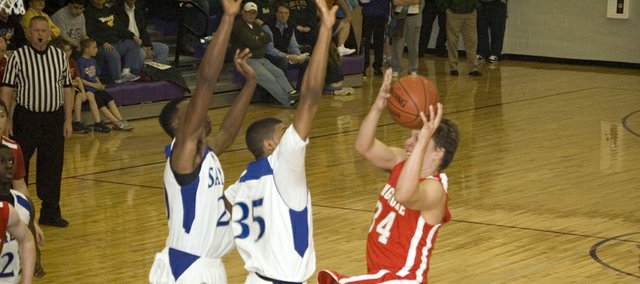 Photo Gallery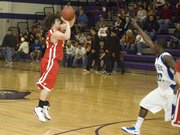 THS boys bounced from sub-state
The Tonganoxie High boys basketball team's season came to an end Thursday at Kansas City, Kan., with a 90-65 loss to Sumner Academy in a sub-state semifinal.
Kansas City, Kan. — The Tonganoxie High boys basketball team witnessed first hand Thursday night just how explosive Sumner Academy, the defending Class 4A state champs, could be.
The Sabres utilized quick, devastating scoring outbursts in a sub-state semifinal at Piper High to beat the Chieftains, 90-65.
THS (10-12) first felt the force of Sumner's ability in the opening two and a half minutes of the second quarter. Tonganoxie held a 21-20 lead before the Sabres (19-3) rattled off 13 unanswered points (11 of which came from junior guard Benjamin Parker, who hit three 3-pointers in that stretch) to take a 12-point lead.
As if that wasn't enough, after the Chieftains stopped the bleeding with baskets from Colby Yates and Dane Erickson, Sumner went on another 13-0 run, which featured another Parker 3-pointer, in just under four minutes.
The most devastating outburst, though, came in a game-changing minute and a half that began with a second left in the third quarter. THS had cut a 19-point halftime deficit to seven in the final minute and had forced Sumner into a missed shot on its last possession of the third when Sabres junior forward Marcus Allen brought down an offensive rebound and put it back up for a basket just before the horn.
Sumner rode the momentum of that second-chance basket into the fourth quarter, capping a 10-0 run with a one-handed baseline throw-down by junior Vernon Vaughn.
Tonganoxie coach Shawn Phillips said those surges were the difference in his team's season-ending loss, because he felt the Chieftains held their own for the most part.
"For a majority of the game I think we were right there with them, toe to toe," Phillips said. "They just had a few three-minute spurts where they dominated."
With two 13-0 runs before halftime, the Sabres made the most of Tonganoxie's eight second-quarter turnovers, Phillips said.
"In the second quarter, we came out and we turned the basketball over early," the coach said, "and that's something that we stressed that we couldn't do — give them easy opportunities."
Down 48-29 at the half, THS showed resolve in the third quarter, when junior center Erickson scored 10 of his team-leading 29 points and senior point guard Jeremy Carlisle put up eight of his 15 points.
A Yates baseline floater near the end of an 11-2 Tonganoxie run marked the only time someone besides Erickson or Carlisle scored for Tonganoxie in the third.
The Chieftains were able to make it a seven-point game with 31 seconds to go in the third, when junior sub Brennen Williams whipped a fast-break pass over the top of the Sumner defense and Erickson took the ball to the rim for an and-one.
THS senior guard Dylan Scates, who finished his prep basketball career with a double-double (11 points, 10 rebounds), scored nine first-quarter points to help the underdog No. 4 seed secure a one-point lead entering the second quarter.
Score by quarters
THS 21 8 20 16 — 65
SA 20 28 10 22 — 90
Tonganoxie scoring
Dane Erickson 11-17 7-8 29, Dylan Scates 5-14 0-2 11, Colby Yates 3-9 0-0 7, Jeremy Carlisle 6-10 2-2 15, Austin Vickers 0-5 1-2 1, Josh Ghale 0-1 2-2 2, Brennen Williams 0-2 0-0 0.