Former teacher Jim Peters brings global perspective to Basehor-Linwood school board race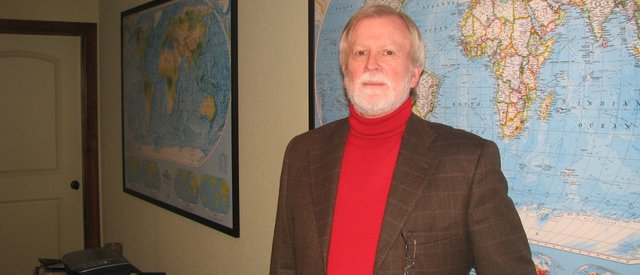 Editor's note: The Sentinel kicks off its coverage of the April 5 local elections today by introducing you to the three candidates vying for the at-large seat on the Basehor-Linwood school board. Jim Peters, Jeff Tindell and Lori Van Fleet are running to take the seat of Doug Bittel, who is not running for re-election after serving two four-year terms in the at-large seat.
Go here for the Sentinel's story on Jeff Tindell, and go here for the story on Lori Van Fleet.
Jim Peters has taught in schools around northeast Kansas and visited schools around the world on more than 20 trips to Europe, South American and northern Africa.
And Basehor-Linwood schools, he said, are some of the best he's been around.
"They're right up there with the top schools everywhere that I've been," Peters said, "and I thought I'd like to be a part of that."
Peters is already a substitute teacher in Basehor-Linwood schools, along with other districts in the area, but he's seeking to be a bigger part of the district's efforts by running for the at-large seat on the Basehor-Linwood school board in the April 5 election.
Peters was a middle-school geography teacher for 34 years in the Kansas City, Kan., school district, and he has been an adjunct instructor at Kansas City Kansas Community College for 25 years.
But his enthusiasm for education has stretched well beyond his professional responsibilities: He has traveled more than 20 times with his wife, also a former teacher, to visit schools abroad, visiting with administrators, teachers and students to see how schools function differently outside of the United States.
One thing he had noticed, he said, was that students in other countries are sometimes able to do impressively advanced work early on without some of the technological advantages enjoyed by American students, because of rigorous classwork.
"Even in North Africa, schools with hardly any electricity, no technology, the kids were doing advanced math at a very early age," Peters said.
He said he wanted to help the district push itself to prepare students for careers in an increasingly competitive world.
"Everything that we can do, let's improve on," Peters said, "and make our schools not good, but the best."
That improvement, he said, starts with quality teaching.
"If kids have the opportunity to learn, they'll learn," Peters said, "You have teachers who have good lessons, who are knowledgeable, who are fun to be in the classroom with — the kids will want to be there."
Peters said the district was already blessed with excellent teachers, and a key to maintaining that quality was to offer competitive pay to keep existing teachers and attract talented new ones.
He said that, even though he does not have children in Basehor-Linwood schools, he was motivated to help the area's students achieve success because he wanted the area to produce educated people and good leaders to keep up with the rest of the world.
"I want them to have meaningful, well-paid jobs that are disappearing from our country," Peters said of Basehor-Linwood students. "I want them to be prepared to get out and make a living, make a decent living."
He said he was confident that the district is already moving in that direction, but he'd like to make sure that instead of standing pat, Basehor-Linwood schools continue to improve.
"I see a bright light in front of the Basehor-Linwood train," Peters said.